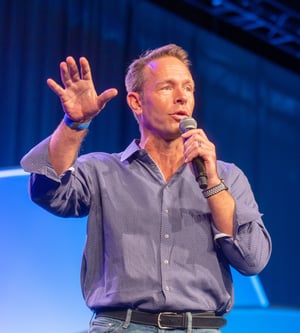 Bill Seely is the President of Varsity Spirit, the leading global source for all things spirit, including cheerleading, dance teams and, most recently, band and performing arts. Varsity Spirit outfits over 750,000 athletes annually, administers over 5,000 camps in 50 states each summer and hosts 600 competitions across the country each year, including 20 premier championship events.
Bill is a graduate of George Mason University, where he was a former cheerleader and captain of the 1990 national championship team. Early in his career, he was the first Southeast Regional Manager for Universal Cheerleaders Association, Varsity Spirit's largest camp brand and the largest cheerleading camp company in the world. As Senior Vice President of Training & Education, Bill was instrumental in developing Varsity Spirit's camp curriculum program, where he introduced the roles of a cheerleader that encompass leadership, ambassadorship and service, in addition to athleticism and entertainment.
In addition to his role at Varsity Spirit, Bill helped launch USA Cheer, the National Governing Body for Cheerleading in the US, and established the first official US National Team to represent the United States in international competition. In that role, he led the efforts to develop the new sport of STUNT, which has become one of the fastest growing sports for women. He is also the Founder of Crosscheck Athletics, a youth sports ministry committed to developing the total athlete and target at-risk youth.
Bill and his wife, Heather, have been married for 26 years, and have four children. This fall, Bill and his son, Hopper, are launching a new brewery, Grind City Brewing Co., in the Uptown neighborhood of Memphis, TN.
---
The Chairman's Circle is made up of local leaders whose investment in the Chamber drives transformational change in Memphis. With more than 100 members representing more than 100,000 employees, members of the Chairman's Circle use their collective strengths as community and business leaders to create a clear path to positive change in Memphis and the Mid-South.