Bill Bradley joined the law firm of Glankler Brown 37 years ago. He's been the managing partner since 2000. He describes himself as a problem solver with an "eclectic" practice, focused mostly on business litigation and intellectual property law counseling and litigation. Founded in 1918, Glankler Brown is based in Memphis, and has attorneys licensed in Mississippi, Arkansas, Alabama, Georgia, New York, New Jersey, Texas, and Washington, D.C.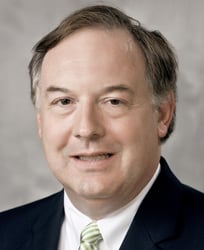 Straight out of Ole Miss, where he graduated with a B.B.A. and J.D., Bill had a job offer from a judge in Mississippi who had been nominated to the federal bench. When the judge's confirmation process was held up, he decided to interview with law firms in Memphis, the big city just 75 miles north of his hometown of Clarksdale, Mississippi. Law runs in the family. His father practiced law for nearly 65 years. His wife, Beth Bradley, is a lawyer with Burch Porter and Johnson. His daughter, Maggie, graduated from the University of Virginia Law School this year and is practicing in Washington, D.C. His daughter Kate works at Vanderbilt Children's Hospital in Nashville.

His family's favorite vacation destination is Sanibel Island, FL. They first visited more than 20 years ago after he read an article about collecting shells on Sanibel. He thought his young daughters would love it, and they did.

Bill credits his father, who was still practicing law in his 80s, for giving him an invaluable piece of advice: It is far better to look forward rather than look back. It's not productive to look back and lament over the things you have done, could have done, or should have done. Applying that to modern-day Memphis, Bill says that "from a community standpoint, our goal should be to make Memphis an even better place in the present and in the future than what we remember it was in the 'good old days.'" He adds: "The Chairman's Circle provides an opportunity for more businesses to become more engaged in addressing issues common to all businesses in our community. It also provides an opportunity for a unified voice in the political arena."

When he's not working, Bill's primary hobby is golf. He briefly – and in his words "poorly" – played football at Ole Miss. As a fan of Ole Miss football since childhood, he said he's taking great delight in a rare successful season.