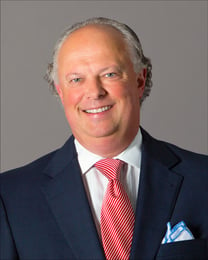 Anthony Clark is the Managing Partner of Dixon Hughes Goodman LLP for the Memphis, Dallas, and Los Angeles offices. Dixon Hughes Goodman LLP is the largest certified public accounting firm headquartered in the Southern U.S. and the 17th largest in the United States.

With more than 30 years of public accounting experience, Clark has served both for-profit and not-for-profit organizations. His primary focus at DHG is hospitality, including hotels, resorts, and management companies. Hospitality companies seek his guidance on potential property acquisitions, strategic growth plans, and operational accounting practices.

After graduating from Ole Miss in 1983, the Ripley, Mississippi, native moved to Memphis, and began his career as a CPA at Rhea & Ivy, one of the oldest public accounting firms in Memphis. He was Chief Manager of Rhea & Ivy, P.L.C. when it joined DHG in 2008.

DHG recently launched new branding that is future-focused and places an emphasis on creating the ultimate client experience. "We want our brand to resonate and emotionally connect with our clients, prospects and people. A connection that is supported by a modern, fresh, sophisticated visual approach," Clark says. "I tell our team, that it's not always about having an answer. Often, it's about having all of the right questions that lead you to THE answer."

When he's not working, he enjoys spending time with his wife, five children, and his grandson. And while he doesn't get to do it as often as he would like, the sports enthusiast enjoys golfing and duck hunting.

One of his guiding principles is "You can't change without changing" and when it comes to marketing the Bluff City, he says "We need to learn how to be cheerleaders for Memphis. We have a lot to be thankful for, and a lot to be proud of, and I think we need to learn how to articulate that clearer and louder."
---
The Chairman's Circle is made up of local leaders whose investment in the Chamber drives transformational change in Memphis. With more than 100 members representing more than 100,000 employees, members of the Chairman's Circle use their collective strengths as community and business leaders to create a clear path to positive change in Memphis and the Mid-South.
Interested in leading transformational change in our community?
Find out how your investment in the Chairman's Circle can help us #MoveMemphisForward.