Andre Gist is the CEO of Manufacturers Industrial Group (MIG). Located in Lexington, TN; Houston, TX; and now Memphis, MIG is a full-service contract manufacturer of metal fabrication products for the industrial, commercial, and medical construction markets. MIG is a proud major steel provider for some of Memphis's biggest projects such as Crosstown Concourse, Hotel Chisca, the expansions of St. Jude and Southwest Tennessee Community College, and the I-40 bridge reinforcement.
Black Enterprise Magazine ranked MIG among the top ten largest Black owned businesses in the US between 2003 – 2012. At their peak, they employed more than 1,800 in their five facilities. MIG opened its first office in Memphis in 2013 downtown in the Peabody Plaza.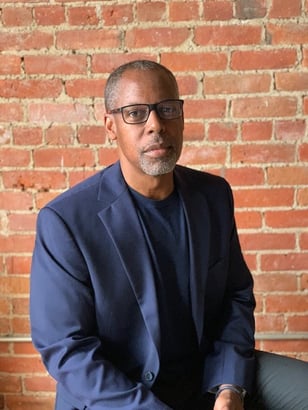 Andre was born and raised in Flint, Michigan, and moved to Detroit after graduating from Bowling Green State University with a BS in Manufacturing Engineering Technology. His first job out of college was as a project engineer for a metal stamping company for the automotive industry. He moved to Tennessee to supply a Johnson Controls facility in Lexington with weld complex metal seating mechanisms and components.
Andre serves on the boards of Pathways Lending; Tennessee Automotive Manufacturers Association (TAMA); and Community Lift.
"What most excites me about Memphis is the growth downtown. It's good for potential business and it means there are more activities to enjoy after work."
When he's not working, Andre is an avid cyclist who also loves attending concerts and sporting events (go Grizzlies!) Andre and his wife have been married for 30 years. They enjoy traveling and some of their favorite destinations include NYC, New Orleans, Paris, Miami, and Hong Kong.