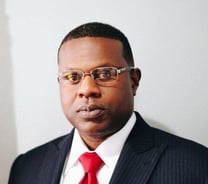 Alfred Washington is owner and chief executive officer of Top Notch Security, Inc., one of the fastest growing security companies in the U.S., providing professional security guards for industrial, commercial, residential, government and executive protection services to clients globally.
Washington started Top Notch Security in 1999 right after completing his college studies. Always having an entrepreneurial spirit, he grew the company to where it is today, employing more than 300 people. Top Notch Security currently has contracts with the Federal Department of Defense, the Department of Justice and the Department of Homeland Security, which covers the Federal Emergency Management Agency (FEMA).
Over the years, Top Notch Security has earned Small Business Administration Tennessee 8(a) Graduate of the Year, been a finalist for the Memphis Business Journal's "Small Business of the Year," recognized as "Small Business of the Year" by the Minority Business Development Agency and was the recipient of the "Rising Star Award" for the Tennessee Small Business Development Center at Southwest Tennessee Community College. Washington has also been recognized as top "40 Under 40" by the Memphis Business Journal.
A native Memphian, Washington's first job was at Mr. Pride Car Wash, and he later attended Southwest Tennessee Community College. He is currently a reserve with the Shelby County Office of Preparedness, Homeland Security and Emergency Management Agency, a board member of Epicenter, a former board member of the Shelby County Land Use Control Board and chairman emeritus of the board for Big Brothers Big Sisters of the Mid-South. Alfred earned an Associate of Science degree from Southwest Tennessee Community College.
---
The Chairman's Circle is made up of local leaders whose investment in the Chamber drives transformational change in Memphis. With more than 100 members representing more than 100,000 employees, members of the Chairman's Circle use their collective strengths as community and business leaders to create a clear path to positive change in Memphis and the Mid-South.
Interested in leading transformational change in our community?
Find out how your investment in the Chairman's Circle can help us #MoveMemphisForward.