Stefanie Schwegman, an ambassador of the Greater Memphis Chamber, has lived and worked in Memphis for over 30+ years. Passionate about Memphis, she loves being a self-proclaimed Memphian and Southerner. Currently a manager at FedEx, she has enjoyed 24 years of growth across multiple functions and operating companies. A proud graduate of Memphis State (yes, she went to school with Penny!) and The University of Memphis, she was inspired to pursue a career in project management after seeing how much discipline can influence success and failure in any industry.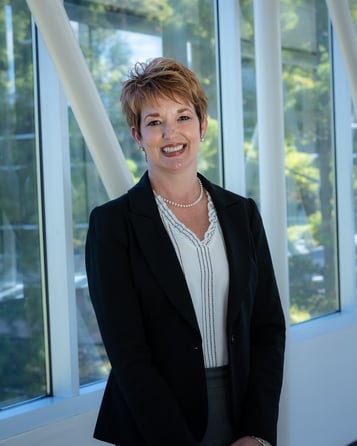 Her goal is to improve the lives of those in the Memphis community and the companies that employ them through education and service. Recently, she co-led the development of a cohort partnership between the Project Management Institute (PMI) of Memphis and the Chamber to offer entry-level PM certification training to help those starting out in Project Management earn a livable wage.
Known for tackling some of the most complex issues/projects that others shy away from, she loves the challenge of solving and improving any process or project whether at work or in our community.
Her passion is serving others through volunteer and charitable work most notably FedExFamilyHouse, PMI Memphis, and Dorothy Day House.
She led the team that initially opened FedExFamilyHouse in December 2010, the only residential facility for families of patients being treated at Le Bonheur Children's Hospital. She continues fundraising every year as a chair of the FedExFamilyHouse Gala committee.
She is a VP on the board of PMI of Memphis and a board member for the Dorothy Day House, the only program in Memphis that keeps houseless families together. She loves being a Chamber ambassador working to help Memphis grow and be a great place to live and work. She is a champion of diversity, equity, and inclusion, and served on the FedEx Express Women's Network for 20 years. She is married to Michael, with two sons, Gabe (20) and Luke (18), and enjoys spending time with them, volunteering and working out.
About the Greater Memphis Chamber Ambassadors Program: Made up of committed professionals, the Chamber's ambassadors are the heart and face of the Chamber's membership, helping welcome new companies to Memphis from around the world, cutting ribbons, breaking ground, and much more. Learn more about the Ambassadors Program here. To apply for the program, email Terri Bosby.