"What I noticed is that a lot of kids think of doctors or nurses when it comes to healthcare, but there are so many different opportunities. Through my externship with Le Bonheur, I was able to see a lot of those opportunities," says Audrey Cummings.
Audrey Cummings is a first-year teacher with a background in the healthcare field. She completed schooling at Southwest Tennessee Community College and went to the Methodist School of Radiology, where she received a certificate in radiology. Since working in radiology for six, going on seven years now, Cummings continues to do CAT scans on a flexible schedule while teaching health science and medical therapeutics at Collierville High School. The school offers a program in which high school students can receive a CNA certificate, qualifying them to go directly into the health industry after high school if they choose to do so.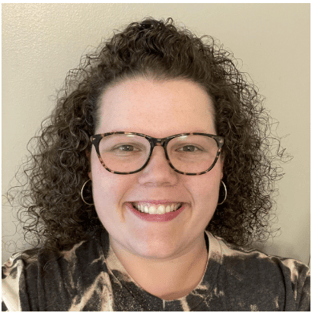 Cummings completed her externship at the same company she works for — Methodist Le Bonheur Healthcare. At first, she wasn't sure how she would benefit from the situation, but her knowledge was quickly humbled. "I thought, what more can I learn?" she explains. "But I discovered there were so many more things to learn." Cummings learned more than she ever imagined by traveling to Methodists' locations across the city and working in different departments.
"Healthcare is amazing and ever-changing," she explains. Cummings shadowed different departments at a wound care center, where she met several employees who kindly shared their stories with her. One employee, who started as a floor cleaner, eventually worked his way up by taking advantage of Methodists' special programs. Cummings explains that Methodist offers tuition assistance and special programs in which all employees can pursue the medical field as long as they have been with the company for at least six months. "There are many different pathways," she explains. Once a floor cleaner at Methodist, Leroy Newby took advantage of this opportunity and eventually worked his way up and became a hyperbaric technician.
A hyperbaric technician works in a hyperbaric chamber—a high-level pressurized oxygen chamber often used to treat various wounds. Air pressure in a hyperbaric chamber is two to three times higher than normal air pressure and is proven to heal damaged tissue in your body. "For some people whose wounds can't be healed, it promotes healing in the body and can be used for many different things," says Cummings.
From hearing Leroy's story and learning from various professionals at Methodist, Cummings realized that just because you're in one setting doesn't mean that's all you know. "My main objective is to figure out how to get my kids into the healthcare industry and what I can learn from my host company to take back to my classroom," she explains. Working in different departments, from the wound care center to the transplant department, Cummings discovered that Certified Nursing Assistants were qualified to work in many more departments than she initially thought. " I'm hoping that learning about new professions will help kids get excited about the healthcare profession," she says.
In addition to discovering the many departments that CNAs can work in at Methodist, Cummings learned about volunteer opportunities. One opportunity that Cummings thoroughly encourages attending is Methodists' Camp BraveHearts, a family grief day camp to help children ages six through sixteen cope with the death of a family member or friend. In addition, Methodist helps give back to the homeless community in Memphis and has even hosted a health education day at a barbershop. In this event, trained students from Concorde Career College and Remington College conduct blood pressure checks for those who come in for a haircut.
About Greater Memphis Chamber externships: The Greater Memphis Chamber's Memphis Teacher Externship Program is an annual paid summer externship opportunity designed to strengthen connections between local classrooms and companies. Teachers spend two weeks at companies directly related to their classroom subject matter to gain a better understanding of the skills needed to succeed in today's workforce. Learn more at MemphisChamber.com/Externs.