April 29, 2021 - To build an understanding of the current market trends that are impacting the Memphis Metro area, the Chamber has been releasing monthly updates to our economic recovery.
To best gauge and position insights related to market activity, we are looking at the region through two lenses. The first is through the lens of traditional monthly indicators. These measures include the lower frequency jobs and unemployment figures and are often seen as lagging indicators of labor market activity. The second lens is through higher frequency weekly indicators. These measures include weekly unemployment insurance claims and job postings. Often, the higher frequency indicators are seen as leading indicators and can signal worsening or better employment outcomes for the region against the monthly reports.
With the release of the January 2021 unemployment numbers on March 19, these updates will provide a key snapshot of where the Memphis market sits as it relates to a recovery from the March/April 2020 contraction.
The Greater Memphis Chamber develops insights that help stakeholders ask the right questions to issues impacting our region's economic competitiveness. To understand the impact of COVID in the current economic environment, the team analyzes data using a combination of sources such as the Bureau of Labor and Statistics as well as cutting-edge tools such as Burning Glass Labor Insights and EMSI, the Chamber aims to provide stakeholders with information that can help drive prosperity for all in the region.
Indicators to Watch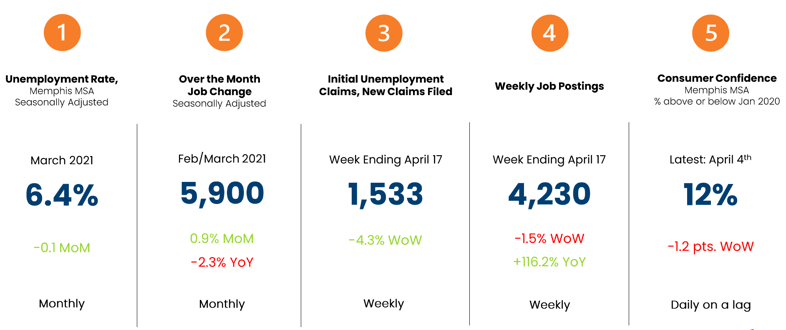 ---
Key insights from this report:
Monthly Indicators

,

[lower frequency, lagging indicators]




March 2021, the seasonally adjusted unemployment rate in the Greater Memphis MSA dropped 0.1 points to 6.4%. The next release for (April 2021) metropolitan estimates will be June 2, 2021.


Seasonally adjusted non-farm payrolls (jobs) in the Memphis metropolitan area increased by 5,900 (0.9%) from February to March 2021.


The industries of Professional/Business Services and Construction are 5.6% and 5.5% above their March 2020 level, respectively. Transportation, Warehousing, and Utilities is 3.5% holds job counts 3.5% higher than its March 2020 level.


Revisions to the 2020 jobs data shows a smaller magnitude of reduction paired with a slower rate of recovery. Initial estimates estimated a 73.lk job contraction, the revised 2021 estimates show a March/ April contraction of 61.4k jobs.

The region is 2.3% below its March 2020 level and ranks 2nd on job recovery against a competitive set of metropolitan areas.



Weekly Indicators,

[higher frequency, leading indicators]


After experiencing a decline in initial claims through the month of February, initial claims have nearly doubled from week ending March 6th to week ending April 17th.



Ql 2021 job postings have accelerated at rate far exceeding any other period post-pandemic. Postings from regional employers expanded 116% week ending April 17, 2020, to April 18, 2021.

While the Greater Memphis market holds relatively high unemployment, many employers continue to hire. Broad based occupational groups are in demand in key areas including Logistics and Supply Chain Support, Office Support and Customer Care, Healthcare, and Accommodation and Food Services.


Consumer Spending, a proxy for consumer optimism, is the amount of money spent by households in an economy for durable and nondurable goods and services. Sharp decelerations are shown through the month of February and might be influenced by the large winter storm in February 2021. As of April 4, spending was 12% above January 2020.



Questions? We would love to hear from you! Click here to send a question or request media access.