July 2, 2020 - To build an understanding of current labor market trends and conditions that are impacting the Memphis Metro area, the Chamber will release an update to our economic recovery in two-week intervals. With the release of the May 2020 unemployment numbers on July 1, these updates will provide a key snapshot of where the Memphis market sits as it relates to a recovery in the local economy.
The Greater Memphis Chamber develops insights that help stakeholders ask the right questions to issues impacting our region's economic competitiveness. To understand the impact of COVID in the current economic environment, the team analyzes data using a combination of sources such as the Bureau of Labor and Statistics as well as cutting-edge tools such as Burning Glass Labor Insights and EMSI, the Chamber aims to provide stakeholders with information that can help drive prosperity for all in the region.
This week's update includes:
The National Bureau of Economic Research officially declared the US economy in a recession on Monday, June 8. Starting in February, this recession ends a decade long period of economic expansion and the longest in recorded US history.


This edition of the Greater Memphis MSA Market Overview highlights select labor market indicators that are published on a monthly and a weekly schedule.


The higher frequency weekly indicators, noted on the following page, serve as leading indicators and could signal worsening or better employment outcomes for the region against the monthly reports.
---
Indicators to Watch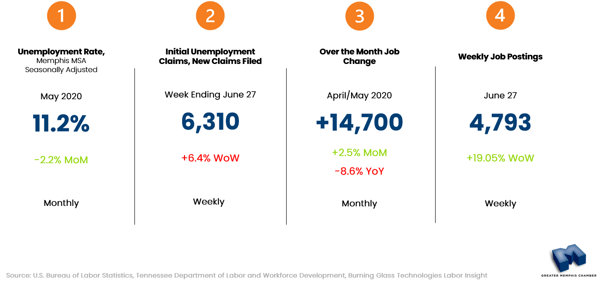 ---
Key insights from this report:
The Greater Memphis MSA has held competitive unemployment rates against the State of Tennessee and the Nation since the onset of the pandemic. For May 2020, the Greater Memphis MSA held an unemployment rate of 11.2%. This is lower than both the State of Tennessee and the Nation at 11.3 and 13.3, respectively. However, Shelby County held a higher May 2020 rate of 11.6%.


Both Initial and Continued Unemployment Insurance Claims increased week-over-week from June 20 to June 27th. This increase could be seen with the release of June 2020 numbers and could reflect headwinds being realized in tandem with the continued increases in COVID-19 cases.


Non-farm payrolls (jobs) in the Memphis metropolitan area increased by nearly 15,000 in May 2020, a month-over-month increase of approximately 2.5%. Although employment is still well below pre-pandemic levels, the May 2020 jobs report provides a hopeful picture that labor market activity is returning.


Leisure and Hospitality posted the strongest gains in May, adding 8,800 jobs, nearly 30% of jobs lost in April. Other notable increases within industry sectors included Professional and Business Services and Education and Health increasing 1,900 and 1,700, respectively.


Online job postings, a proxy for employer demand, have accelerated rapidly. Since May 2, 2020 online job postings have increased 138%, 19.05% June 20 to June 27, 2020. While indicative of accelerated demand, opportunities to shift labor market displacement exists - leveraging skills of displaced workers for in-demand occupations within new industries.
Questions? We would love to hear from you! Click here to send a question or request media access.