The Greater Memphis Chamber Ambassadors Program is made up of committed professionals who represent Greater Memphis to companies from around the world. Learn more about the Ambassadors Program here.
Tracey Zerwig Ford has played many roles in Memphis, both on and off the stage, including Artistic Director of Memphis Children's Theatre and Artistic Director for the Memphis Arts Council/ArtsMemphis' Center for Arts Education. Her current role is as the Director of Arts and Community Engagement at Hutchison School, an all-girls school in East Memphis, founded in 1902. At Hutchison, she founded the Center for Excellence, which serves 10,000 participants a year in arts, academic, leadership, and sports training.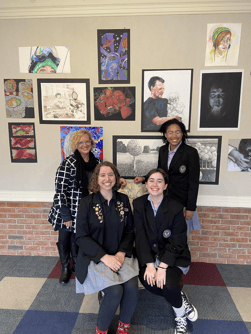 Leveraging her network, Tracey hosts the Community Partnership Roundtable for 80+ organizations to pitch resources, needs, and opportunities to build community over competition. Tracey is always networking on behalf of Hutchison to secure meaningful internships and fellowships, volunteer partnership opportunities, and speakers for the girls at Hutchison to inspire the next generation's leaders.
In late 2021, Hutchison and the Greater Memphis Chamber partnered to pilot a Junior Ambassador program for high school girls interested in learning about business careers and connecting to area leaders.
Pictured are a few of our Junior Ambassadors with Zerwig (top left). Check out Hutchison at www.hutchisonschool.org or on social media platforms at @HutchisonSchool.