It was a busy week at the Greater Memphis Chamber. Here's a quick overview of some of the important events and activities from the week of May 16, 2019.
Legislative update
On May 17th, the Chamber's State lobbyist, Wendell Moore, briefed members of the Government Affairs Council and members of the Chairman's Circle Public Policy Task Force on this past legislative session. Wendell shared with the group that Shelby County received over $19 million in appropriations during this session for a number of projects. Wendell urged the group to consider pulling the City of Memphis and Shelby County (including the individual municipalities) together to prioritize the top two to three priorities for the Greater Memphis region, saying that a consolidated effort in the 2020 legislative session could offer more opportunity for Memphis and Shelby County.
Wendell is developing a final report, which we will share with the board and our membership as soon as it is complete.

Davos on the Delta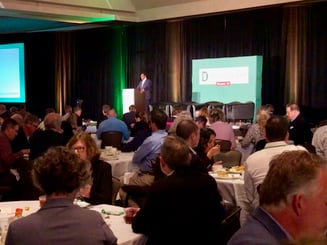 We were very excited to partner with the 3rd Annual Davos on the Delta. The conference featured conversations about the dramatic change in agriculture, food, and health. The most innovative entrepreneurs, top industry experts, early adopter customers and smart investors in risk capital came together to map the future of food system innovation.

Governor Bill Lee opened the Main Conference hosted at the Peabody Memphis and the Chamber's own Eric Miller, SVP Economic Development, was featured in an onstage conversation with Chris Caldwell, Federal Co-Chairman, Delta Regional Authority and Lyman Aldrich, Founder & Chairman Emeritus, Memphis in May.
Read more about the important role of AgTech to our region's economic growth strategy.
---
Memphis in May International Trade and Investment Conference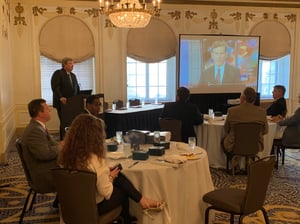 The Chamber, City of Memphis, and Memphis In May International Festival, Inc. hosted international officials whose countries have been previously honored by Memphis in May for the International Trade & Investment Conference. Mayor Jim Strickland welcomed the guests at The Peabody Memphis and Eric Miller, Chamber SVP Economic Development, shared insight on Memphis economy with our guests.

Officials from Japan, Mexico, Germany, Great Britain, and South Korea attended the event. The guests heard from a panel of thought leaders from Memphis' thriving industries including Economic Development, Food & Agriculture, Education & Research, and Healthcare & Medical Technology.

Specials thanks to the panelist from the following organizations: EDGE: Economic Development Growth Engine for Memphis and Shelby County, Tennessee Valley Authority, iSelect Fund, Agricenter International, Tennessee Department of Economic and Community Development, The University of Tennessee Health Science Center, The University of Memphis, and Memphis Bioworks Foundation.
---
Lunch In The Know with RedRover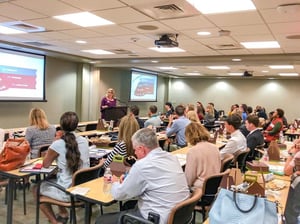 In this workshop, our Members learned how to flip the B2B sales funnel toward a philosophy of account-based marketing. Lori Turner-Wilson, CEO and founder of RedRover, and Lauren Brady, Director of Growth RedRover Sales & Marketing, uncovered 10 breakthrough B2B prospect-engagement strategies to test against prospects to refine sales and marketing strategy into one that is repeatable, predictable and actually moves the needle on revenue.
Our next Lunch in the Know will feature Leslie Lynn Smith of Epicenter. To reserve your spot, click here.
---
UnitedHealthcare Empowering Health program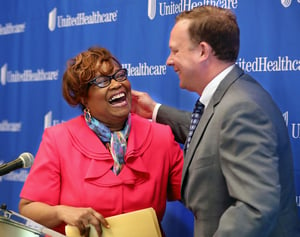 On May 13th, Chairman's Circle investors UnitedHealthCare held a press conference at the Chamber announcing their $1 million donation to 7 nonprofit organizations in Memphis. Steve Wilson, CEO of UnitedHealthcare of Tennessee, and Keith Payet, CEO of UnitedHealthcare Community Plan of Tennessee, shared remarks on the importance of focusing on the overall well-being of a person by improving access to health and addressing social determinants of health such as food insecurities. To help address these issues, the grants will support needs ranging from dental care and transportation to hunger, youth health and physical activity of residents in the Greater Memphis region.
Congratulations to the following local grant recipients: Mid-South Food Bank, Church Health, Metropolitan Inter-Faith Association, Regional One Health, Shelby County Education Foundation, YMCA of Memphis and the Mid-South, and Christ Community Health Services.
Read more about UnitedHealthcare and their goals to improve the health needs in our region.
---
SOUNDCHECK CORNER OFFICE WITH AUDREY GREGORY

Our SoundCheck Young Professionals had the opportunity to learn from Saint Francis Hospital CEO Audrey Gregory, PhD at this month's Corner Office.

With more than 20 years of nursing experience, Gregory shared her unique perspective on health care leadership. We were very inspired by her long record of advocacy for community health and broadening access to care.
Want to learn more about how to get young professionals in your company engaged in Soundcheck? Click here.
---
Interested in more information about what the Chamber has been up to in 2019? Register now for the Mid-Year Chairman's Forum, a new event that will feature a presentation by Board Chair Richard Smith and a full update on the Chamber from President & CEO Beverly Robertson. Register now to reserve your seat!