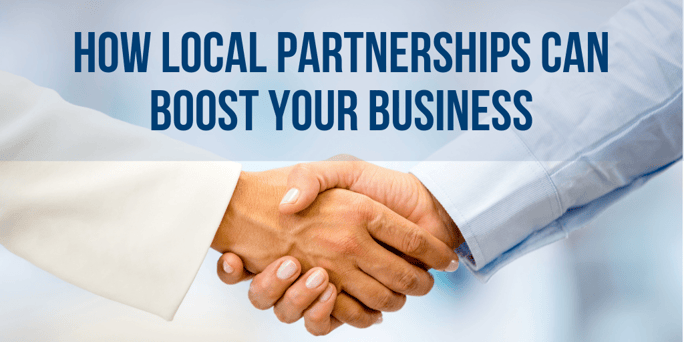 A company is only as small as its footprint, and while its label may suggest otherwise, a small business can be as big as industry giants. The saying, "It's all about who you know" couldn't be more true for entrepreneurs and small business owners. Your clientele, customer base, investor pool and partnerships build the imprint of your brand, and in order to sustain growth in your industry, it's important to foster those professional relationships.
Local partnerships can become a small business's No. 1 asset in the professional world, and here's why.
1. Local partners are connected to your target audience.
If you are a local business, chances are, you've come in contact with other businesses in your area. Take advantage of the networking opportunities around you to secure strong partnerships that will end in profit for both parties. Consider offering a trade in services or resources in order to build professional relationships that help everyone involved.
Even if your business is digital or not region-specific, there is no better landscape to cultivate business from than your own backyard. If you can generate buzz around your company locally, your brand will be considered one of your area's offerings to the surrounding regions. Growth often begins with building awareness and support from within your own city.
2. Local partnerships promote goodwill and cooperation in the community.
As a small business, your customers are likely engaging with a number of other companies in your area. Knowing that the establishments they purchase goods and services from are kind and cooperative with other professionals will boost a consumer's trust in a business.
When you can recognize that there is plenty to business to share, your customers will know that you're truly here to help, not just looking to lock in their hard-earned money. The pressure is off and people can trust that you value the community and other businesses.
3. Local partnerships expand your brand beyond your industry and generate business from new angles.
If your business engages with other companies for various services that you don't offer, chances are, you'll have the opportunity to explore audiences in new industries. If you're a local chef and are asked to provide a catered meal for a nearby corporate event, you are able to showcase your work to a new audience, and will likely acquire new business.
Small business growth can be daunting, but also incredibly rewarding. If you're willing to invest in local partnerships, your company will generate revenue, publicity and experience that you simply can't create on your own.
---
Event Rentals by Hicks is a full-service event planning and rental provider in Memphis, Tenn., having served the Mid-South for more than 30 years. The third-generation family-owned business began in the 1970s, and after more than three decades, Hicks remains the largest rental supplier in the Mid-South. From weddings and trade shows to cocktail parties and galas, Hicks can offer rentals for any occasion.