The world is currently in a state of confusion, panic, bewilderment, and uncertainty. How could we ever have predicted the situation in which we currently find ourselves? With the situation changing by the hour, it can leave you feeling lost and wondering what is going to come next.
If you run your own business, you are no doubt feeling anxious about what the future holds and how you are going to weather the storm that COVID-19 is unleashing on the world.
Like many business owners, you may already have contingency processes in play that will help to protect your company and everything for which you have worked so hard. Perhaps you are busy scanning through your business insurance policy documents. Perhaps you are considering temporarily downscaling your business to save on costs. Maybe you have your sights on reducing your marketing spend until things pick up once more.
If you are considering the latter you are not alone, and on a service level it makes sense. With all the unknowns, most products and services are becoming more of a luxury than a necessity and it can be wasteful to spend what revenue you do have on customer acquisition.
However, companies that are able to weather this downturn and continue to strategically market to and communicate with their customers will come out much stronger and be posed for faster recovery once the tide shifts.
As a small business owner, I fully understand the difficulty of continuing to sell and market currently. But if history tells us anything it is that based on past outbreaks or recessions there is data that shares this view:
In 2002, McKinsey published a study of 1,000 US companies during the early 90's which included a recession and how the companies that came out ahead pressed their advantages.

During the SARS outbreak, China's economy tanked for a few months, but rebounded in subsequent quarters to register an annual growth rate of 10%.
As a Business Owner What Can You Be Doing?
Keep the Conversation Going
Everybody is feeling the impact of COVID-19. Communication is vital in situations like this and will keep your customers in the loop. However, this isn't the time for sales pitches. It's a time for empathy, understanding, and cooperation that will help your customers in a time of crisis. Not only will you be showing the altruistic side of your brand, but you may also build important connections and help your audience to feel less isolated. A simple update about how your business is operating during the outbreak or answering customer questions will ensure you keep everybody connected and informed. It's all great press for your business. See below from Buster's Liquors: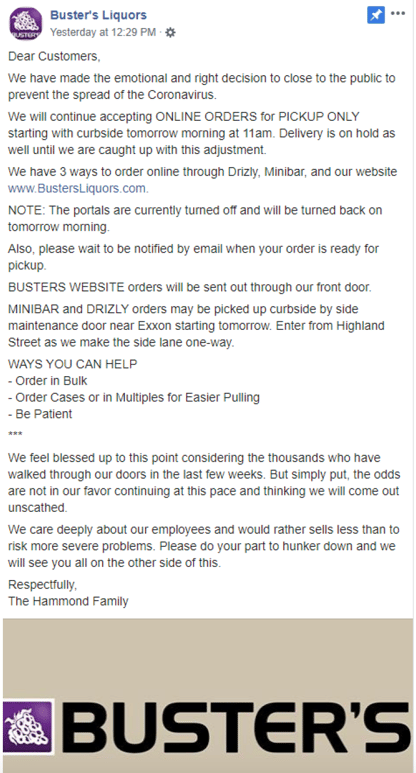 Be Ready for Change and the Bounce-Back Moment
As the saying goes, the only constant in life is change. While it is true that nobody could have expected life to change quite as much as it has in the past few weeks, it is the perfect time to get ahead and lead this change. The marketing strategy you had in place last week may no longer be appropriate for the weeks and months ahead. This means taking a step back and renewing your vision, looking out for fresh opportunities and building a marketing strategy that focuses on these objectives.
For example, a restaurant could employ the following tactics currently to try to drive new revenue:
Offer pickup incentives to reduce the cost of 3rd party services and offer a free dessert or appetizer that has low cost to the restaurant.

Encourage future visits by giving a gift card or coupon with each order that can be used for future visits.

Offer kids eat free option with the purchase of $X dollars on other items.

Create prepared meals that can be placed in the fridge or freezer for later reheating.
Time Your Promotions to Perfection
Every adversity contains the seeds of opportunity and growth. Whether you sell a product or service, this unprecedented period in history could present the perfect time to support and assist your customers by offering timely discounts and promotions. People are naturally worried about the future and will be looking to make savings. By using tools and services such as SEO, social media marketing, and pay-per-click advertising, you can put your offers in front of a captive audience. To get the best return on investment, think about products that people are likely to want to buy now.
Local SEO for the Win
With all foreign travel halted and social-distancing initiatives in progress, we are all staying home or as close to it as possible. Right now, your customers will be relying on local services more than ever and it is a perfect time to start using local SEO strategies to
optimize your website. In doing so, you will make your business easy to find by customers using "near me" searches. Whether you provide delivery services, emergency plumbing services or you can offer dog walking for families in self-isolation, local SEO will ensure people can call on your services.
Consider PPC With Costs Declining
Paying for ads may be at the bottom of your priority list right now but this method of marketing is a great way to gain a competitive edge. According to some industry experts, the cost of pay-per-click (PPC) advertising is expected to decrease week on week until the situation stabilizes. This will mean your ads will cost less per click.
Yelp just rolled out a relief program to support local businesses where they are offering free features and upgrades to businesses. In some cases, they are waiving ad charges.
Review Your Google My Business Listing
Your Google My Business (GMB) listing is often the first touchpoint prospects will have of your business. Even Google has said their current focus is on the quality and reliability of information on Google Search and Maps. It is also the perfect point to communicate any specific impact COVID-19 has made to your business. For example, have your opening hours changed? Are you using a different phone number? Have the services or products you offer changed? Are you offering any emergency support or services? If your business is open to the public, you can also use your listing to communicate any safety precautions you would like your customers to action, such as washing their hands on entry or avoiding paying for goods with cash.
For those of you who actively manage and or update GMB, you may be experiencing delays from Google My Business updates or limited responses from Google. As a result, there may be some temporary limitations and delays in support as Google looks at critical services and puts priority to those.
Please take note of these temporary product changes:
Business information edits - Google will prioritize reviews for edits critical to health-related businesses. At this time, we will also prioritize reviews for open and closed states, special hours, temporary closures, business descriptions, and business attributes edits for other verified businesses.

Newly created listings, claims, and verifications - you can expect a delay for publication of new listings, claims, and verifications for other types of businesses to Google Search and Maps.

Reviews and Q&A - New reviews, review replies, and new Q&A will be available during this time. We have seen some industries reporting they still have this functionality, but it will likely not be for long.
Wrapping Up
These are vulnerable times and we are all feeling the uncertainty that the situation generates. However, the business that adapts and rolls with the punches, that shapes its marketing strategy to suit the situation and which shows compassion and support will be the business that is most likely to bounce back on the other side.
---
HigherVisibility is an Award-Winning Digital Marketing Agency focused on delivering customers through strategic SEO, PPC, and Social Media services.