Memphis, Tennessee (Thursday, Nov. 16, 2023) — The Board of Directors of the Greater Memphis Chamber voted unanimously this afternoon to name Greg Duckett as the 2024 Chairman of the Board.
Duckett, who is the executive vice president and chief legal officer of Baptist Memorial Health Care Corporation, will succeed Doug Browne, president of Peabody Hotels & Resorts, on Jan. 1. Duckett, who will serve a one-year term, was previously the board's co-vice chair as well as the chairman of its Government Affairs Committee.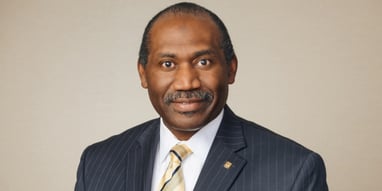 Browne, who has served as chairman since his election in 2021, will ceremonially pass the gavel to Duckett at the Chamber's Annual Chairman's Luncheon on Dec. 14.
"I'm honored to serve as chairman of the board for one of the busiest and most effective chambers in the country," Duckett said. "Memphis is already one of the fastest-growing job markets in the nation and a global logistics leader, and I look forward to supporting the Chamber as it accelerates our momentum by developing our growing economy, diverse workforce, and future-ready infrastructure."
Named one of the "50 African American Leaders in Healthcare to Know" by Becker's Hospital Review, Duckett has been with Baptist for more than 30 years. He currently oversees a number of critical shared services departments, including Risk Management, Corporate Compliance, and Privacy and Security. In his role as executive vice president, he also serves as secretary to Baptist's Board of Directors.
Prior to joining Baptist, Duckett became the first Black chief administration officer of the City of Memphis in 1991. Then 31, he was also the youngest CAO in the city's history. Before that, he served as the city's director of Housing and Community Development from 1988 to 1990.
"The Chamber is honored to have a nationally respected leader like Greg Duckett helm our board at this exciting stage in our region's growth," said Ted Townsend, president and CEO of the Greater Memphis Chamber. "On behalf of our business community, we are deeply grateful to former chairman Browne for positioning our region for the future and we look forward to leveraging Chairman Duckett's experience and passion for Memphis to bring greater opportunities and prosperity throughout our region."
Duncan Williams, chairman of SouthState|DuncanWilliams Securities Corp., will continue to serve as vice chairman of the Chamber's Board of Directors, a position he had shared with Duckett since 2021.
About the Greater Memphis Chamber: One of Memphis' oldest institutions, the Greater Memphis Chamber is a privately funded nonprofit that serves as the region's lead economic development organization and the "Voice of Memphis Business" on local, state, and national issues. The Chamber relentlessly pursues prosperity for all — through economic and workforce development, pro-growth advocacy, and by providing support and resources to its investors, which include many of the region's largest employers. For more information about the Chamber, visit memphischamber.com and memphismoves.com. Also, follow the Chamber on Twitter, Facebook, LinkedIn and Instagram, and sign up for its weekly newsletter, the Memphis Fourword.