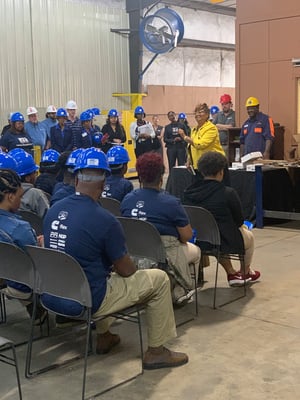 The Greater Memphis Chamber and partners are celebrating National Manufacturing Day on Friday, October 4th, with over 500 Shelby County School students for tours at 23 Memphis area manufacturing companies and those who serve manufacturing companies.
South Pemiscot High School from Missouri will also tour Cummins. The goal is to promote advanced manufacturing careers in Memphis as well as the educational opportunities to qualify for these jobs. The partners include: The Workforce Investment Network (WIN), Greater Memphis Medical Device Council (GMMDC), Greater Memphis Alliance for a Competitive Workforce (GMACW), and Shelby County Schools College, Career & Technical Education (CCTE).
"In our work to create transformational change in this city, we at the Chamber are committed to improving our school district's career pathways by providing access and opportunities for our students to get exposed to future careers early on before graduation. The manufacturing industry is one of the key drivers in the Memphis economy and we want to be sure our students are aware of the great, high paying job opportunities available to them right here in Memphis," said Beverly Robertson, President & CEO, Greater Memphis Chamber.
The schools participating this year include: Bolton High School, Central High School, Cordova High School, Craigmont High School, Douglas High School, East High School, Germantown High School, George Washington Carver High School, Hamilton High School, Kingsbury Career Technology Center, Melrose High School, Middle College, Oakhaven High School, Sheffield High School, Southwest Career Technology Center, Southwind High School, Trezevant Career Technology Center, Westwood High School, Whitehaven High School, Memphis Academy of Science and Engineering, South Pemiscot High School, and MLK College Prep.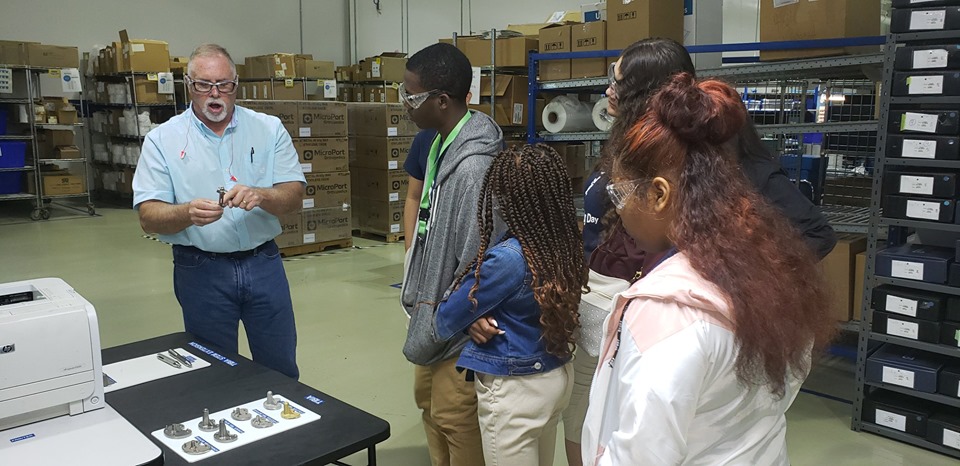 Students touring MicroPort Orthopedics.
On these tours, students receive information on possible careers within the industry and the paths to get there. Each high school will tour a different Memphis-area company which includes: Olympus Surgical Technologies America, MicroPort Orthopedics, Inc., National Guard Products Inc., Medtronic, Cummins, Elos Medtech, Mitsubishi Electric Power Products, Inc., Odyssey Medical Technologies, LLC, Atlantic Track, Cleveland Track Material, Inc., Wright Medical Group N.V., Titan Medical Manufacturing, Methods Machine Tools, Inc., Smith & Nephew, Steel Warehouse, Flex LTD, Jordan Aluminum, Barnhart Crane & Rigging, Competition Cams, and SFI Warehouse.
See photos from Manufacturing Day 2019 here.
Manufacturing Industry Stats:
In Memphis, manufacturing is the 2nd largest industry by metro GDP

U.S. manufacturing is the 9th largest economy in the world

Manufacturing is the 5th largest employer in the U.S. supporting more than 12.8 million jobs

For every $1.00 spent in manufacturing, creates $1.89 for the U.S. economy
Over the next decade, it is estimated that nearly 4.6 million U.S. manufacturing jobs will be needed and 2.4 million of those jobs are expected to go unfilled due to manufacturers' inability to find talent with the required skills according to the co-producers of National Manufacturing Day: National Association of Manufacturers, Fabricators & Manufacturers Association International and the Manufacturing Extension Partnership. The Manufacturing Day in the Mid-South highlights the importance of manufacturing to the U.S. economy and showcase the rewarding, highly skilled jobs available in manufacturing fields.
The Greater Memphis IT Council also hosted its inaugural Tech Day in support of career education for the East High School T-STEM Academy Junior and Senior classes. Greater Memphis IT Council member organizations provided educational tours as part of the day of field trips to provide insight and inspiration on careers in the technology sector. Participating Organizations included: City of Memphis Ducks Unlimited Expedient Data Centers First Tennessee Bank IMC Companies JuicePlus+ ProTech Systems Group Southwest Tennessee Community College ServiceMaster University of Memphis – Herff College of Engineering.
For 175 years, the Greater Memphis Chamber has been the lead economic development organization for Memphis/Shelby County, and is a private, non-profit, membership-driven organization comprised of 2,200 business enterprises, civic organizations, educational institutions and individuals.