This is a special contribution by Duncan Williams Asset Management. If you would like to submit your own contribution, email Greater Memphis Chamber Director of Communications Ryan Poe.
From all of us at Duncan Williams Asset Management, welcome to our series, ECON: 901. These publications delve into economic subjects close to home, where we live, work, and play. Please feel free to provide feedback or suggestions for any local topics that could be worthwhile to explore (IMG@dwassetmgmt.com). After all, these pieces are for you, written by one of you.
Memphis Grizzlies: Stars are Aligning
In 2018 we began our ECON: 901 series with an early version highlighting the relative value of the Memphis Grizzlies versus the rest of the NBA. Given the newfound success of the team in a world and city that has experienced much change since those simpler times, we decided to revisit the topic.
The NBA is a league of stars. Grizzlies management has proven adept at locating these players, so one would think the already strong relative showings would increase. We predict that improved metrics are certainly in store, but just as the Grizzlies franchise can attest, results are not immediate.
We use the Forbes franchise values for our first relative valuation metric and compare them to the metropolitan population to arrive at a per capita franchise value. In absolute terms, the Grizz franchise has increased in value by nearly 50% and is worth around $1,121 per citizen. In this respect, the two franchises that managed to jump the Grizzlies (Thunder and Warriors) have benefited from star power, with the Warriors adding championship credentials. We believe that the Grizzlies can again climb back, given the abundance of young players capable of bringing the Larry O'Brien trophy to this basketball hotbed.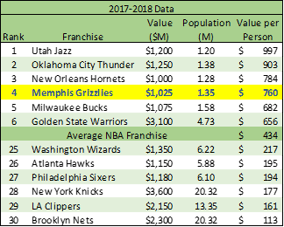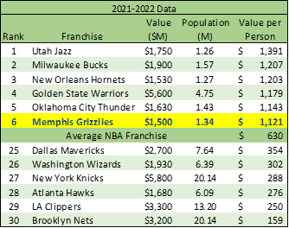 Next, we look at franchise values for each metropolitan area's gross domestic product (GDP). The overall numbers are much improved, with the Grizzlies franchise value ~ 2% of metro GDP. The Griz did drop one spot here as the New Orleans Hornets jumped from the fourth spot to the top spot. The Hornet's giant leap is primarily due to factors. The first reason is that the New Orleans economy shrunk over the last few years, whereas the Memphis economy grew. The second factor is that the Hornets landed a potential star by drafting Zion Williamson in the 2019 draft. With the Hornets drafting Zion, they set the stage for Memphis to choose Ja Morant. The Morant draft, paired with other excellent moves (Bane, Clarke, Brooks, Jackson, Williams, etc.), seem destined to take the team and city to the ultimate prize – the number one spot on these relative rankings!