As a sub-group of The Greater Memphis Chamber's We Build 901 Collaborative, Women Build 901 Too! has recently received national recognition by the U.S. Chamber Foundation Center for Education and Workforce as a benchmark program that's building pathways for women in construction. The program was formed to attract job seekers to the trade in efforts to address the shortage of nearly 2,000 workers in the construction industry in Memphis.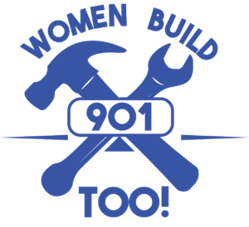 With Memphis developing at a fast-pace, the Chamber's workforce development team saw it critical to focus on reskilling the workforce so that the city can continue to grow and compete on a global level. Through discussions with employers in the We Build 901 Collaborative it became apparent that there are relatively few women in construction and few pathways for them to enter the field which led to the formation of Women Build 901 Too!
Spearheaded by Kit Crighton-Smith, project management advisor for FedEx properties and facilities, Women Build 901 Too! connects job seekers with employers as well as serves as a community where women in the construction industry can network and develop mentorship relationships with those aspiring to grow in the field. The employer led program focuses on building a talent pipeline for careers for women within the construction industry.
Women Build 901 Too! is based on the Talent Pipeline Management®(TPM) methodology of construction companies, which includes 50 companies, contractors and subcontractors in the region. The collaborative also works with local nonprofits such as Agape and the Shelby County Schools district to reach middle and high school young women to share information on promising career options in construction and connect them with a female mentor if they choose to move forward in the industry.
---
The mission of Women Build 901 Too! is to expose, educate, and empower women to pursue viable careers in the building trades which deliver financial independence, respect, and security. To learn more about the initiative click here. Join Women Build 901 Too! by contacting Sondra Howell for more information.