MEMPHIS, Tenn. (Thursday, 12/1/22) – Gwyn Fisher, a Memphian who has played a pivotal role in attracting jobs and investment to Greater Memphis for nearly a decade, will join the Greater Memphis Chamber as its chief economic development officer on Dec. 14, the Chamber announced today.
Fisher, who has served as Greater Memphis regional director for the Tennessee Department of Economic and Community Development since April 2013, will succeed chief economic development officer Ted Townsend, who transitions to his new role as president & CEO on Dec. 13. In her new role, Fisher will lead the work to recruit and retain businesses, jobs, and investment to Greater Memphis for the Chamber, which is the region's primary economic development organization (EDO).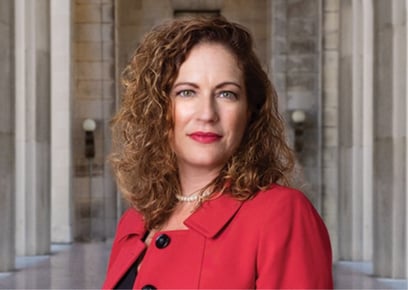 "We are thrilled to welcome Gwyn Fisher to the Greater Memphis Chamber," Townsend said. "I've worked closely with Gwyn for years, so I know from personal experience how tough and tenacious she can be when it comes to scoring major wins for our region. I have every confidence that Gwyn will lead our team and our region to greater heights."
The addition of Fisher comes at an exciting time for Greater Memphis, which had its best year ever for economic development in 2021, with more than 9,300 new jobs announced. A signature project – and one that Fisher worked on closely with the Chamber team – was Ford's BlueOval City electric vehicle manufacturing campus, the single largest private investment in Tennessee history and in Ford's history.
The campus near Memphis begins production in 2025 and is expected to result in 6,000 direct jobs, not counting the thousands of additional jobs Ford's suppliers are expected to bring to the region.
In June, the Chamber outlined its Prosper Memphis 2030 plan to grow Memphis by 2030. The plan included three bold but attainable goals: 1) add 50,000 jobs, with half going to minorities; 2) add 700 advanced industry companies; and 3) to graduate 20,000 students in science, technology, engineering, and mathematics annually, with 45% of those degrees going to minorities. The Chamber's economic development work, headed by Fisher, will play an important role in helping the region meet those goals.
"What the Greater Memphis Chamber team has accomplished despite the pandemic and its aftereffects is nothing short of amazing," Fisher said. "Memphis is increasingly becoming a destination of choice for advanced manufacturers, especially in the areas of supply chain and logistics, agribusiness and food, medical device and health care technology, and music. My top priority is to accelerate that growth, which will result in even more opportunities and access to prosperity for all of Memphis."
During her tenure at ECD, Gwyn and her team have worked with more than 150 companies to create more than 23,600 new jobs and invest more than $7 billion in the region.
Prior to joining the state, Fisher was the founder and CEO of Revolution Strategy (2011-2013), helping government and community leaders form public-private partnerships, while also working for FedEx Express (2012-2013). Fisher previously served as the executive director of MPACT Memphis (2008-2011), which she built into one of the nation's largest independent organizations for young professionals. She also developed and executed one of the nation's largest grassroots surveys of young professionals, The Voice of MPACT, which was published and distributed by Contemporary Media.
A graduate of the University of Memphis Cecil C. Humphreys School of Law and of Scripps College, Fisher has a long history of community involvement and currently serves on the following boards: River City Capital (chairwoman), Memphis Museum of Science & History (formerly Pink Palace), and the Delta Leadership Network's Regional Advisory Council. Gwyn is also a graduate of Complete Tennessee Leadership Institute, Commissioner's Leadership Academy, LEAD Tennessee, and Leadership Memphis, and is a member of the American Friends of Durrell Wildlife Conservation Trust and the West Tennessee District Export Council.
Additional quotes
"I can't imagine a better fit to lead the economic development work of the Chamber," said Andy Cates, chairman of Colliers Memphis. "Gwyn knows the right levers to pull to convince companies to call Memphis home. With Gwyn on the team, I couldn't be more optimistic about the direction of our region and of the Greater Memphis Chamber."
"This is a tremendous hire for the Chamber and our entire community," said David McKinney, Human Resources and Public Affairs for AutoZone. "Gwyn's experience, proven track record of success and unwavering dedication to our region's growth is simply remarkable. Her addition to the Chamber further positions Memphis to be even more competitive for years to come."
About the Greater Memphis Chamber: One of Memphis' oldest institutions, dating back to 1838, the Greater Memphis Chamber is a privately funded nonprofit that serves as the region's lead economic development organization and the "Voice of Memphis Business" on local, state, and national issues. The Chamber's mission is to relentlessly pursue prosperity for all — through economic and workforce development, pro-growth advocacy, and by providing support and resources to its investors, which include many of the region's largest employers. For more information about the Chamber, visit memphischamber.com and memphismoves.com. Also, follow the Chamber on Twitter, Facebook, LinkedIn and Instagram, and sign up for its weekly newsletter, Memphis Fourword.