The Greater Memphis Chamber in partnership with Shelby County Schools College, Career & Technical Education (CCTE) celebrated National Manufacturing Day virtually on Friday, October 2th, with over 700 Shelby County School students tuning in for virtual tours of 10 Memphis area manufacturing companies and those who serve manufacturing companies.
The goal is to promote advanced manufacturing careers in Memphis as well as the educational opportunities to qualify for these jobs.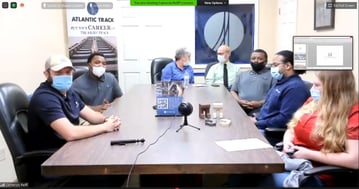 "At the Chamber, we are committed to strengthening opportunities in our economy which includes connecting our students to future careers available right here in Memphis," said Beverly Robertson, President & CEO, Greater Memphis Chamber. "We're proud to partner with our school district to improve career pathways by exposing students to jobs in the manufacturing industry which is one of Memphis' top industries. We have the talent and we have the jobs, so we're proud to be able to bridge the gap."
Some of the schools that participated this year include: Central High School, Cordova High School, Craigmont High School, Germantown High School, Manasas High School, Kingsbury Career Technology Center, Southwest Career Technology Center, Southwind High School, Trezevant Career Technology Center, Whitehaven High School, Ridgeway High School, and Middle College.
"Our participation in Manufacturing Day is very important because advanced manufacturing is a robust part of the Memphis economy and provides high paying jobs to thousands of Memphians," said Ernest Strickland, Senior Vice President of Workforce, Greater Memphis Chamber. "In our continued efforts to upskill and create a pipeline of high skilled talent, it is important that we communicate these efforts and career opportunities to our high school population."
During the virtual event, students received information on possible careers within the industry and the paths to get there. Each high school will connect with a different Memphis-area company which includes: MicroPort Orthopedics, Inc., National Guard Products Inc., Medtronic, Cummins, Atlantic Track, Wright Medical Group N.V., Flex LTD, Trane, Barnhart Crane & Rigging, and Hyosung HICO Ltd.
Manufacturing Industry Stats:
In 2018, Memphis' gross domestic product (GDP)-- the total monetary or market value of all the finished goods and services produced within a country's borders in a specific time period-- topped nearly $10 billion with 900 manufacturing firms employing more than 43,000 people.

Manufacturing supports more than 12.13 million U.S. jobs

For every $1.00 spent in manufacturing, creates $2.74 for the U.S. economy

U.S. manufacturing is the 8th largest economy in the world
Over the next decade, 4.6 million manufacturing jobs will likely be needed, and 2.4 million are expected to go unfilled due to manufacturers' inability to find talent with the required skills according to the co-producers of National Manufacturing Day: National Association of Manufacturers, Fabricators & Manufacturers Association International and the Manufacturing Extension Partnership. The Manufacturing Day in the Mid-South highlights the importance of manufacturing to the U.S. economy and showcase the rewarding, highly skilled jobs available in manufacturing fields.
---
For 175 years, the Greater Memphis Chamber has been the lead economic development organization for Memphis/Shelby County, and is a private, non-profit, membership-driven organization comprised of 2,200 business enterprises, civic organizations, educational institutions and individuals.