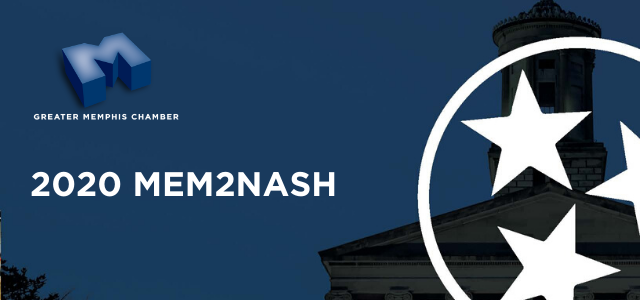 In partnership with the University of Memphis and Memphis Tourism, the MEM2NASH annual trip to the Tennessee Capitol is an excellent opportunity to meet with key leaders in state government. Also dubbed the "Memphis Invasion," it is a chance for the Memphis community to showcase area businesses, tourist attractions, and community priorities to members of the Governor's Cabinet and the leadership of the Tennessee Legislature.
Local businesses and elected leaders who participate find it to be great opportunity to network with other community leaders and to familiarize themselves with Nashville and our critical state issues. To be held February 4-5, this two-day, one- night event will include a VIP reception, one-on-one meetings with state legislative officials, and a briefing breakfast.
Event Details:
Tuesday, February 4th: MEM2NASH will kick-off with a reception from 5:00 p.m. – 7:00 p.m. at Hotel Indigo in Downtown Nashville. The entire Tennessee General Assembly, plus the Governor and his cabinet are invited. Memphis music will be in the house along with great food and cocktails.
Wednesday, February 5th: A legislative briefing breakfast will be held for our Memphis participants/attendees. Senator Brian Kelsey will brief our business leaders on issues that are impacting Memphis. Immediately following the breakfast, we will take the group to the offices of the Governor, TDOT Commissioner, TDEC Commissioner, Speaker of the House and some members of the Shelby County Delegation (the group will conquer and divide, but all participants will attend the meeting with the Governor). Along with the City of Memphis, we will host the Shelby County Delegation lunch at noon.
Accommodations: Hotel Indigo Nashville. Contact Amy Daniels to learn more information.
---
Interested to find out more about MEM2NASH, click here to learn about what was accomplished last year.