Memphis, Tenn. (May 26, 2021) - The Greater Memphis Chamber announced Amity Schuyler as its new Senior Vice President of Workforce Development. Schuyler currently serves as Chief of Strategy and Innovation for Shelby County Schools (SCS), prior to SCS she served as Deputy Commissioner for the Department of Education for the State of Tennessee. In her new role, Schuyler will oversee the Workforce Development team and will be charged with creating alignment of academic institutions and workforce development organizations. Schuyler begins her position July 1st.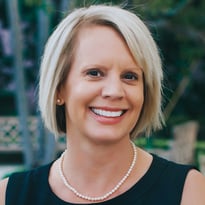 "Whether meeting with our existing businesses or recruiting new businesses to Memphis, the number one issue that is most often discussed is both our current and future workforce," said Ted Townsend, Chief Economic Development Officer for the Greater Memphis Chamber. "Amity brings to the role a deep understanding of the needs of business and industry leaders as well as the importance of systems and policy alignment as a crucial component in creating workforce and talent pipelines for a community."
Schuyler comes to the Chamber with a long history of engagement with the business community in 20-years of cabinet level and CEO roles in the nonprofit, state, and local government sectors. Prior to relocating to Tennessee, she served as the Chief of Staff and Chief of Strategic Communications for the School District of Palm Beach County, the tenth largest district in the Nation, where she successfully led two ballot initiatives in three years to provide $41 billion of tax revenue for the school district. In this role, she also worked closely with the Palm Beach Economic Council to align policy and legislative priorities that strengthened and supported classroom to workplace pipelines.
"I am beyond thrilled to join the team at the Greater Memphis Chamber and help to make Memphis the choice city to do business," said Schuyler. "In order to build a strong workforce that meets the needs of our employers, solid alignment in our workforce eco-system is a must. That means we must all be rowing in the same direction and desire the same outcomes. I am up for that challenge and excited to get to work."
Schuyler is most known for her ability to strategically work across sectors, identify common needs, remove barriers and silos, and maximize resources to make a community a better place for children and families.
"Leading Workforce Development is one of the most critical roles at the Greater Memphis Chamber," said Beverly Robertson, President & CEO for the Greater Memphis Chamber. "To be successful in retaining and recruiting businesses to Memphis, we must be successful in training and educating our current and future employees. That starts at the most basic level. Amity is positioned to bring all of our partners to the table and set that plan in motion."
"As Amity moves into her new role, I am confident the synergy between our educational system and business community will only strengthen," said Dr. Joris M. Ray, Superintendent for Shelby County Schools. "I look forward to continuing our work together as we Reimagine 901 and prepare our students for the Memphis and global workforce."
Shelby County School Board Member Kevin Woods, who also serves on the Board of Directors for the Greater Memphis Chamber reflected, "Collaboration is how we must address the needs of business and industry while also opening more doors for our youth and those with significant barriers to greater employment opportunities. Amity joining the Chamber is emblematic of the strong connection and synergy that can exist between educational institutions and businesses."
Schuyler holds a bachelor's degree in English from the University of South Florida, A Masters of Public Administration from Florida Gulf Coast University and ABD status at the University of South Florida for a Doctorate in Education Leadership. Schuyler is a Proud Memphian, wife, mamaw, daughter and sister to an Army Veteran.
---
About the Greater Memphis Chamber
For 182 years, the Greater Memphis Chamber has served as the voice of business for the Mid-South. The Chamber is the lead marketing and lead generation arm for Memphis and Shelby County, working to attract and grow businesses, build strong talent pipelines, strengthen the business climate and tell the story of why the Greater Memphis region is a great place to do business.