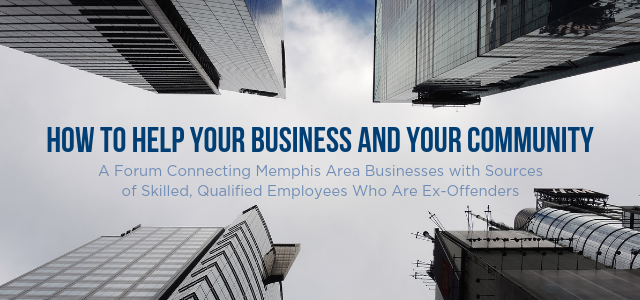 Memphis Mayor Jim Strickland and Shelby County Mayor Lee Harris both agree that helping ex-offenders get connected to jobs is a top priority to create prosperity for all in the Greater Memphis region.
"Reducing recidivism and helping ex-offenders get back on their feet has been a priority and passion of ours at City Hall, and the importance of a strong workforce re-entry program cannot be overstated."
- Mayor Jim Strickland
On June 11 at the University of Memphis, public officials and business leaders will join at the How to Help Your Business and Your Community Forum to discuss how employers can tap into sources of skilled, qualified workers while at the same time expand opportunities for ex-offenders and create a pathway for their success in our community. Speakers include Tennessee Governor Bill Lee, Tennessee Department of Correction Commissioner Tony C. Parker, Shelby County Mayor Lee Harris and Memphis Mayor Jim Strickland.
"If we can find ex-offenders with real employment opportunities, we can reduce recidivism, tackle future crime and provide employers with a much-need workforce."
- Mayor Lee Harris
Register here to learn more about how you can help ex-offenders to second chance to participate in the economy.
---
The forum is sponsored by:
Tennessee Department of Correction (TDOC): The department's mission is to operate safe and secure prisons and provide effective community supervision in order to enhance public safety. The Department of Correction has implemented the mandates of the Public Safety Act of 2016 to enhance public safety by applying a more strategic approach to corrections. It continues to engage its partners in the criminal justice system, as well as empower its staff to keep our communities safe. https://www.tn.gov/correction.html
Greater Memphis Chamber: The goal of the Chamber is to help Memphis grow. It gives member businesses the support they need to reach their full potential. It works with site selectors and relocating companies to demonstrate the advantages of doing business in Memphis. The Chamber advocates with local, state, and federal governments on behalf of its members. It pursues investment opportunities that enrich the community. The Chamber partners with educational and vocational programs to provide a skilled workforce and supports initiatives that help make Memphis a great place to live. https://memphischamber.com/
Public Safety Institute at the University of Memphis: The Public Safety Institute (PSI) at the University of Memphis is an interdisciplinary part of the university community committed to identifying and advancing best practices in the field of public safety. Under the partnership with the Crime Commission, the PSI is charged with spearheading evaluation of the local Operation: Safe Community crime plan. The Institute also conducts research independent of the Crime Commission agenda. https://www.memphis.edu/psi/
Memphis Shelby Crime Commission: The Memphis Shelby Crime Commission seeks to improve public safety in the Memphis and Shelby County community by identifying and promoting evidence-based and evidence-informed best practices. It spearheaded development of the current Operation: Safe Community plan and is quarter-backing the plan's implementation. https://memphiscrime.org/