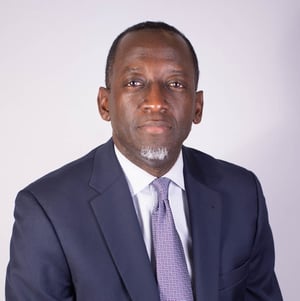 The Greater Memphis Chamber announced the addition of Robert "Bobby" S. White, II, as the new Chief Public Policy Officer.
"We were fortunate to find a seasoned professional with a proven track record for this position in Bobby White, which is something that our members let me know is important to them," said Beverly Robertson, President & CEO, Greater Memphis Chamber. "He brings more than 20 years of experience at the local, state and federal level, and has worked with business leaders on many of the key issues that have helped transform Memphis. In his new role at the Chamber, Bobby will lead our strategic policy efforts and work closely with legislators to help us bring jobs and investment to the area, ensuring that our public policies are aligned with those goals."
White has previously served in leadership roles for the Mayor's Office with both Shelby County Government and the City of Memphis. In these positions, he has consistently problem-solved for new and existing business leaders seeking help from local government. More broadly, Bobby has helped to secure Memphis' past inclusion in White House initiatives focused around economic expansion and public safety, and led the planning of international trips centered on economic and cultural exchange.
"Bobby and I have been in the trenches fighting for Memphis for over a decade. The battle scars we share run deep, but the joy of the city's progress because of our shared struggle runs deeper," said City Council Chairman Kemp Conrad. "Bobby's heart, passion, and his understanding of the issues that impact the business community and ability to build stakeholder consensus will be benefit the Chamber, Memphis, and the region. I look forward to working and serving alongside him again in this new role."
"I applaud the fact that the Chamber has hired Bobby White to coordinate its public affairs agenda. Bobby is a more than capable public policy professional whose relationships and work in this community will serve the Chamber well," said Shelby County Commission Chairman Van Turner. "It is clear to me that from his stints in the federal, state, county and city offices of government, he gets it and knows what needs to be done to push the ball forward for a better and more inclusive business community."
"I am most pleased to know that Bobby White will be joining our Memphis Chamber as Chief Public Policy Officer. I have worked with Bobby for many years related to local and state education issues. His ability to communicate and bring all people together will benefit Memphis greatly," said Tennessee Representative Mark White.
In addition to overseeing the Chamber's Government Affairs Committee and Chairman's Circle Public Policy Task Force, White will be instrumental in developing the Chamber's Legislative Agenda for both state and federal level. He will serve as the primary point of contact from the Chamber's leadership team to engage and interface with public officials.
"It is essential that we build a strong Memphis business climate that supports the growth of our local businesses and attracts the opportunity for new businesses, too," said White. "I am humbled by this opportunity to work alongside with so many business leaders that I have set across from for so many years. Together, I know we will do great things."
White is a graduate of Morehouse College with continued studies at the University of Memphis. He is a member of the National African-American Leaders Group American Israel Education Foundation, serves as Vice President for Bountiful Blessings Ministries and is an Executive Class Graduate of Leadership Memphis. He is married to Stephanie White and they have one son.
---
The Greater Memphis Chamber takes on the biggest challenges facing businesses in West Tennessee. We provide opportunities for members to influence economic initiatives that support prosperity and growth for our region. To learn more about our public policy agenda, click here.

Not yet a member of West Tennessee's most connected business organization? Learn more about the benefits of membership here or join online.