The Chamber's Economic Development team hosted the second Blue Carpet Tour of 2019 last week. The Chamber team welcomed four consultants to Memphis for a two-day sales pitch on why the Bluff City is the right place for business relocation and expansion.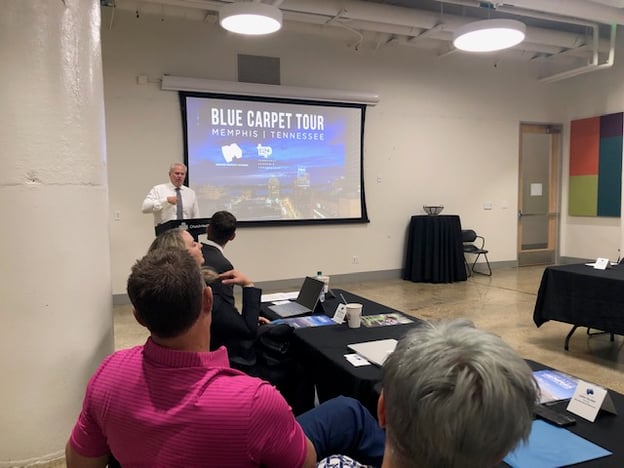 In addition to spending time with the elected officials, consultants had the opportunity to hear presentations from Chamber partners at Tennessee Economic & Community Development, Epicenter, EDGE, Downtown Memphis Commission, Memphis Airport Authority and to meet representatives from the Chamber's One Stop Shop team including Tennessee Valley Authority and MLGW.
Chamber Chairman Richard Smith also made a presentation about his company's recent decision to relocate its headquarters to Downtown Memphis. Smith also highlighted the $19 billion in new, planned or underway projects spanning the city.
Ted Townsend, Chief Economic & Government Relations Officer at the University of Memphis outlined how the state's second largest university is building a world-class research function with its efforts to achieve a Carnegie 1 Research designation by 2025. Townsend also outlined out the university can connect companies with the research resources and talent needed to drive innovation.
Read more about the University of Memphis's efforts to obtain Carnegie 1 research status here.
The Blue Carpet Tour is held twice a year as part of the Chamber's efforts to market the Memphis region to site consultants responsible for selecting locations for companies.
---
The Greater Memphis Chamber is the lead sales and marketing agency for economic development for Memphis & Shelby County.
Are you a site selector or business owner looking to expand or relocate in the Greater Memphis region? Contact a representative from our economic development team here.