This August, the Greater Memphis Chamber is featuring a local Black business owner each week as it celebrates Black Business Month. Read other features here.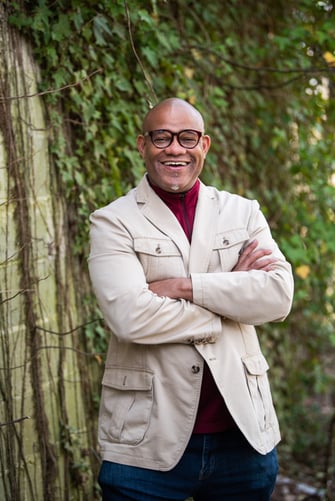 Larry Robinson
CEO/Founder | KUDZUKIAN
What's the nature of your business?
KUDZUKIAN is an independently owned branded audio and visual content producer, specializing in creating edutainment programming as well as "turn-key" production of on-demand virtual, in-studio and livestream content across all media platforms. Founded in 2014 by marketing executive Larry Robinson, KUDZUKIAN fills an opening in the digisphere for the full range of distinctive and authentic voices represented in American culture. The Memphis-based company is a network that house over 20 podcasts and has produced several livestream events for national entities as well as municipalities. From politics to pop culture, from business to blues, KUDZUKIAN provides high quality digital experiences that are fresh, relevant, soulful, engaging and dynamic.
Anchored in Memphis and Manhattan, KUDZUKIAN is poised to become the new sound of Memphis. KUDZUKIAN is also poised to sprawl across the southeast and the country, with listeners and clients that span the country, from coast to coast.
Why Memphis? Why your neighborhood?
Why not Memphis? It is ripe with opportunities and talent. People say a lot of things about Memphis but it's really a hidden gem. It is very uniquely positioned. First of all, it's the gateway to the south and the north in many respects and it's a river city. Here, there is a convergence of cultures, food, music, socio-economics, races and when you mix all of that, creative energy and SOUL is boundless and in tremendous supply.
Another benefit to being based in Memphis is that the cost of living is reasonable. It's also "the little big city," as the natives refer to it. That's because everyone knows everyone who knows someone who knows someone you need. If you have a family, it's a great place for family life. It's also a tight-knit community that values loyalty and "family" ties (school/church/BGLO affiliations/etc). For a non-native, this can be difficult, but once they embrace you it's all love! If you do right by Memphis, She will do right by you!
We were initially based in Midtown but the opportunity arose for us to move into this space at the Agricenter. John Butler, CEO, Agricenter, and I had been talking for some time and establishing a relationship. Then the stars just aligned. With us being in an ag-centered space, we understand more than ever how important representation is across the board.
What is the most important lesson you've learned from owning a business?
There are so many. But here are my top two:
Follow your Gut! Gut instinct is one of the most valuable qualities one can possess. It will never lead you astray. When you feel off center or unsure, find a quiet space and let your intuition lead you.
From the Four Agreements: Speak impeccably, Don't Take anything personal, Don't make assumptions, and Always Do Your BEST! Although we are dealing with personalities, it ain't never personal (in either direction). Keep that top of mind.
What do you wish you knew when you started your business?
Be Water! Life comes at you in a myriad of ways, be flexible and always look for the next innovation…actively look for your pivots!
Part of that pivot includes how we invest our money and adjust to growth.
What's the best advice you ever received?
Plan the work and work the plan. But be ready for God (or the universe) to laugh.