MEMPHIS, Tenn. – Bank of America recognized the extraordinary potential of two college freshmen, Hannah Blackwell and Akaash Seemakurty, by selecting them as 2020 Student Leaders (#BofAStudentLeaders). These two recent Shelby County Schools graduates completed the bank's summer program, an experience full of leadership opportunities, civic engagement, and workforce skills-building. Both students expressed how well the Student Leaders program prepared them for starting as freshmen at two different universities this fall.
The Class of 2020 Memphis-based Bank of America Student Leaders were: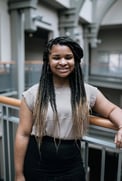 Hannah Blackwell, 2020 Memphis Central High School Graduate and Louisiana State University Freshman: In high school, Hannah was a commissioner of community service for the Student Council where she managed all community service for the organization and hosted community beautification days.
---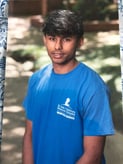 Akaash Seemakurty, 2020 White Station High School Graduate and Vanderbilt University Freshman: During high school, Akaash created his own coding program, Koding Kidz, that served a diverse group of 147 students in its first year.
In light of the health concerns that remain in local communities, the program was adapted to a virtual format, through which students had the opportunity to participate in sessions that exposed them to the vital role that nonprofits play in advancing community health, the importance of public private partnerships to advance social change, and a focus on building financial acumen.
"The Student Leaders program helped prepare me in so many different ways," said Hannah Blackwell. "Not only did I get to meet with different mentors, form a lot of new connections, and gain experience in my hopeful future career path, I also got to experience virtual learning, which will make the transition to college in these unprecedented times easier for me."
Memphis Student Leaders participated in programming that leveraged Bank of America's national partnerships and expertise and worked closely with the company's Memphis leadership and nonprofit partners.
Blackwell and Seemakurty participated in a collaborative project working closely with New Memphis to create an outline of opportunities to engage, expose and connect college students to the city of Memphis as a way to aspire them to launch their careers in Memphis. They researched best practices to plan new opportunities hosted by New Memphis throughout the upcoming academic year to increase engagement and connection with New Memphis' Launch: Campus to Career program.
"I will be attending school for computer science and economics," said Akaash Seemakurty. "One of my projects with New Memphis was to research grants and make recommendations based on my research. I really enjoyed using my interest in economics during this project. I feel even more confident about the path I want to pursue after gaining the experience I did this summer."
Student Leaders also engaged in conversations focused on social justice, civil rights and how to build a more diverse and inclusive society and had the opportunity to gain a better understanding of their personal finances through Better Money Habits®, Bank of America's financial wellness and education platform.
"Bank of America is committed to supporting youth and young adults of all backgrounds by connecting them to jobs, skills-building and leadership development," said Livingston Albritten, Memphis market president, Bank of America. "Creating opportunities for our youth to gain skills and build a network is a powerful investment in the future of our community."
The ability to earn a paycheck is essential to many young people, whether they are helping support their families or planning for the future. As part of their Student Leader experience, each student received a $5,000 stipend to recognize them for their community achievements.
Bank of America
At Bank of America, we're guided by a common purpose to help make financial lives better, through the power of every connection. We're delivering on this through responsible growth with a focus on our environmental, social and governance (ESG) leadership. ESG is embedded across our eight lines of business and reflects how we help fuel the global economy, build trust and credibility, and represent a company that people want to work for, invest in and do business with. It's demonstrated in the inclusive and supportive workplace we create for our employees, the responsible products and services we offer our clients, and the impact we make around the world in helping local economies thrive. An important part of this work is forming strong partnerships with nonprofits and advocacy groups, such as community, consumer and environmental organizations, to bring together our collective networks and expertise to achieve greater impact. Learn more at about.bankofamerica.com, and connect with us on Twitter (@BofA_News).
For more Bank of America news, including dividend announcements and other important information, visit the Bank of America newsroom. Click here to register for news email alerts.