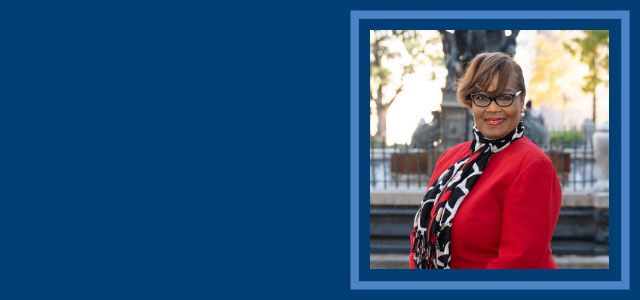 In the next few months, Memphis will be viewed as 'ground zero' when it comes to transforming our workforce.
Giving our citizens the tools that they need to be successful has been a passion of mine since I was a child, from literally first becoming a teacher to my current position today with the Greater Memphis Chamber.
I want to help people get jobs. Good, high-paying jobs. To do that, we must have a robust economy that supports the growth of local businesses and attracts new businesses.
A healthy business hires more of our citizens. After all, without the jobs, what exactly would we be training a workforce to do?
In my short time as your president and CEO, there are two things I know for certain: workforce development and economic development go hand in hand, and to land the deals that we want, we must compete for them.
The focus in our local media is all too often misplaced on these issues, emphasizing the tax breaks while downplaying the net new taxes generated in these deals. This leads to many in our community simply misunderstanding how incentives work in attracting and retaining business to Memphis and Shelby County.
It also contributes to creating an environment which makes business feel unwanted. That type of sentiment can have serious repercussions for a community, as we saw recently in Queens with Amazon abandoning their plans for a headquarters which would've brought 25,000 jobs to that borough.
Last week, Mayor Harris in his State of the County address called for more focus on workforce investments and less reliance on tax breaks to continue our economic momentum.
While that is a popular theoretical approach, I'd like to offer some thoughts about how both work in tandem to advance economic development in Memphis.
We are a long way off from having such a workforce that is the envy of the country and, therefore, no longer have to use incentives to compete with other markets who offer them.
It is fallacy to presume that the momentum we have established over this past year could continue without the same type of deal-making which changed our trajectory in the first place.
It's helpful to sometimes take a look back, so let's remember where we were just a short year ago. Local politicians and civic leaders everywhere bemoaned our lack of growth and demanded that we put more focus on bringing higher-wage jobs to the community.
So that's exactly what we did. We got purposeful about it, became more aggressive and customer-centric, and landed three headquarters projects!
When is the last time that happened? Those three headquarters for Mimeo, Indigo Ag and FedEx Logistics represent around 1,400 projected net new jobs with average salaries ranging from $60,000 to upwards of $90,000 per year.
This type of effort is exactly what the community had been begging for, and now we are doing it! And we did it responsibly.
Unlike previous deals done in a bygone era, these deals involved very little money up front in the way of cash grants and relied primarily on tax abatements, called PILOTs, to offset the company's capital costs in relocating or expanding.
If the companies don't hit their projected numbers in terms of new jobs or investment, then we have clawbacks in place as protection allowing us to take back some of the avoided taxes.
Economic Development Terms Explained: Learn more about PILOTS and TIFs.
So let's talk about those taxes. Without the PILOTs, all three companies would tell you they would not have done these deals.
FedEx Logistics, for example, would not be spending $44 million in capital to retrofit an empty guitar factory to make it Class A office space. It simply would not make financial sense to do so.
Nor would ServiceMaster have turned an old mall into their headquarters for that matter, and we'd have lost 1,200 headquarters jobs as a result.
If you look at the estimated direct and indirect taxes and fees generated during the terms of the PILOTs for the three recent headquarters wins, it totals upwards of $114 million.
Now that's real money, right there! And its money we would never have seen if not for our willingness to make deals and compete for these jobs.
The media may not fully understand the advantage of the PILOTs and tax abatements and it causes our local community and some of the politicians who serve it to form opinions based on limited information.
They focus on the tax breaks required to land these deals, essentially revenues we'd have never gotten in the first place, instead of the upside for our community – which is over three times that amount in the case of these recent HQ deals.
The bottom line is that these are good deals, and getting some is always better than getting none in my experience.
Offering incentives is one of the only arrows in our quiver when it comes to competing for new and existing businesses. And we are not alone. You had better believe that other communities would have happily rolled out the "tax break red carpet" to have a ServiceMaster or a FedEx Logistics relocate to their downtown areas.
And incentives are not just for the big corporations either. Our community is also working to incentivize small business growth through targeted programs.
It was exciting to read about the 22 new small businesses growing in the Memphis Medical District thanks to such programs.
We want to keep on growing both large and small businesses alike so they can make our economy vibrant and full of those high-skilled jobs that we will be training folks in this community to fill.
So this is where I agree with Mayor Harris wholeheartedly. We do need to make workforce development one of our top priorities in 2019, and beyond.
This fall, the Chamber will hold a two-day-long Workforce Development Summit. We have somewhere between 15,000 and 20,000 job openings in our region.
What will it take to get at least 10,000 of those jobs filled over 24 months? This is a huge challenge that cannot be solved by only the business community or the government.
Rather, it will take all of us working together. You see, if the hope is to one day have such a workforce, then we at the Chamber are all in on that mission.
We have a long way to go, but we believe we can get there. We also believe that attracting high-wage jobs and developing the workforce to fill them are not competing community priorities, rather they are highly complementary. They go hand in hand, as I said before. So we need to continue to focus on both, not one or the other.
If we're comprehensive and intentional in how we approach this paradigm shift for the greater Memphis region, we can transform our workforce and make it a model for the country. You just have to believe.
After all, who would've thought just one short year ago we'd have landed three new company headquarters? And Union Row, the largest development of its type in our history?
Most said our problems here were too great to attract such projects, ignoring the fact that the cities we compete with have the same challenges.
So I am optimistic about our future. Memphis is on the rise. If we continue to believe we can be a community of opportunity for all our citizens, and we work together towards that end, then that is exactly what we will become.
---
This editorial appeared in the Daily Memphian on February 19, 2019.
---
Not a member? Get #InvestedInMemphis