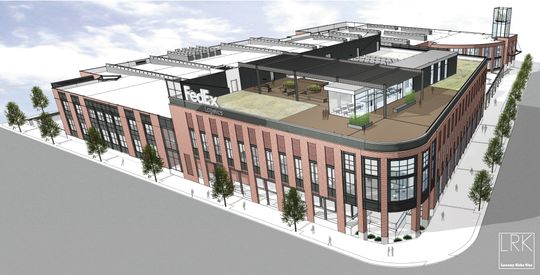 FedEx Logistics, a subsidiary of FedEx Corp. today announced it will move its headquarters to Downtown Memphis, consolidating the company's Memphis operations. Nearly 700 new jobs are expected to be created over the next five years. Three hundred twenty three jobs will be retained and more than $44 million in investment will be poured into the project and the local economy.
"This is a moment of dynamic growth and transformation both for our company and for the city of Memphis, and we at FedEx Logistics are thrilled to be a part of this revitalization of downtown Memphis," said Richard W. Smith, president and CEO of FedEx Logistics. "By combining our disparate offices into a dynamic campus, it became economically attractive to provide this fantastic environment for our team members. This will be a great space for collaboration among the different aspects of our business and a true home for our growing company as we attract new talent for the future of FedEx."
This announcement is the latest of several big moves to Downtown Memphis, including AgTech startup Indigo Ag, a record-breaking proposal for the $9 million Union Row development, and many more. This boom in Downtown development represents $6 million in tax revenue and more than $172 million in overall economic impact for the area, according to the Downtown Memphis Commission.
FedEx Logistics & FedEx Corp.
Part of the larger FedEx portfolio, FedEx Logistics is responsible for connecting global supply chains through air freight forwarding, ocean freight forwarding, customs brokerage, and trade and customs advisory services.
The sheer volume and reach of FedEx and its subsidiaries has established a global network that provides FTN customers a competitive edge. The company moves products around the world quickly and reliably, utilizing coordination capabilities to speed shipments through customs and help customers navigate complex international trade rules and procedures to efficiently achieve regulatory compliance.
The role of FedEx Logistics within that structure today is the result of a 2018 realignment of FedEx Corp.'s specialty logistics and e-commerce solutions, in response to a rapidly evolving global economy and growing consumer expectations of free, fast shipping worldwide.
---
In 2018, FedEx announced the realignment of its specialty logistics and e-commerce solutions in a new structure under FedEx Trade Networks, creating an organization focused on serving the unique needs of this important growth driver. Renamed FedEx Logistics in 2019, the company provides a full suite of supply chain solutions, specialty transportation, cross border e-commerce technology services, customs brokerage, and trade management tools and data.
---
Fedx Logistics' Memphis location serves as the headquarters for more than 20,000 team members in 27 countries.
Home to FedEx since 1973
Federal Express officially began operations in Memphis in 1973 with 389 team members. On its first day of operation, 14 small aircraft took off from Memphis and delivered 186 packages to 25 U.S. cities. Today, the company employs more than 400,000 team members worldwide, moving more than 12 million shipments each business day to 220 countries and territories.
With our central location in the United States and a climate that rarely causes airport closures, Memphis remains home to the company's global headquarters and the headquarters of each subsidiary except FedEx Ground (Pittsburgh) and FedEx Office (Dallas).