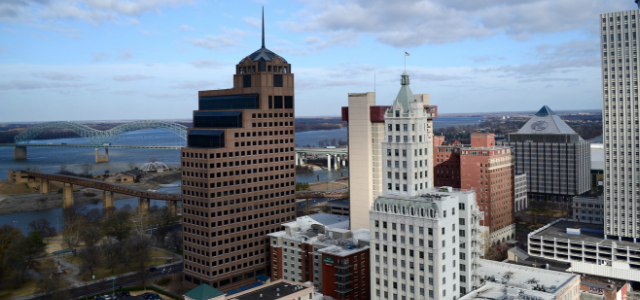 Memphis Botanic Garden
750 Cherry Rd. Memphis, TN 38117This February, the Greater Memphis Chamber will present the first annual State of the Economy to the Memphis business community. This outlook for the year will provide expert guidance on ways that local, regional, national, and global economic forecasts could impact the Mid-South in the year to come. Learn more here about our dynamic speaker lineup for this signature event. Don't miss this opportunity to gain critical insights that will set your business up for success in 2019.
---
KEYNOTE SPEAKER
TIM MULLALY
Director & Chief Economist
FedEx Corporate Economics Dept.
---
Tim Mullaly is Director and Chief Economist of the FedEx Corporate Economics Department. In this role, he is responsible for forecasting economic indicators relevant to FedEx and the U.S. economy. Tim provides analysis to senior management on conditions in the U.S. economy, transportation industry and energy markets. He also provides feedback on proposed legislation that would impact the transportation industry and the economy. Tim is a member of the Blue Chip survey of Economic Forecasters. He is a graduate of Grand Valley State University and received a master's degree in Economics from Western Michigan University. Tim earned his Ph.D. in economics from Penn State, where he conducted researched on the North American Free Trade Agreement. Prior to joining FedEx, Tim taught macroeconomics at Wayne State University in Detroit.
PANEL DISCUSSION
BOB ROLFE
Commissioner
Tennessee Department of Economic & Community Development
---
Bob Rolfe was appointed TNECD Commissioner in 2017 by Governor Bill Haslam and reappointed this year by Governor Bill Lee. The department is responsible for recruiting business and industry to the state, supporting existing companies, expanding economic opportunities across rural Tennessee and boosting the state's overall economic prosperity. Under his leadership, TNECD has increased Tennessee's global footprint. During Rolfe's tenure, he led Tennessee's efforts in the recruitment and expansion of nearly 70 international companies that have committed to create more than 12,200 jobs. Representing 22 countries, these companies have invested $3.4 billion in the state.
Rolfe has more than three decades of experience in business and investment banking in Tennessee. Prior to his service as Commissioner, he served CEO of Medical Reimbursements of America, Inc., co-founded Nashville-based private equity partnership West End Holdings, and spent 18 years as an investment banker at J.C. Bradford and Co. He is a graduate of the University of Alabama and holds an EMBA from Vanderbilt University.
LARRY JENSEN
President & CEO
Cushman Wakefield | Commercial Advisors
---
Larry Jensen is President and CEO of Cushman & Wakefield | Commercial Advisors Partners. With more than 35 years in the commercial real estate business, Mr. Jensen has been recognized as "Commercial Broker of the Year", "Office Broker of the Year" and "Office Leasing Broker of the Year" for the Memphis region by his real estate industry peers. Mr. Jensen and his team advise and represent corporations, institutions, and individuals with innovative strategies, planning, and implementation related to business and commercial real estate. His clients have included Smith & Nephew, ServiceMaster, Hunter Fan, FedEx Corporation, Campbell Clinic, and St. Jude Children's Research Hospital.
Mr. Jensen is a graduate of the University of Memphis and active on the UM Board of Visitors and the UM Fogelman College of Business Board of Advisors, among many other civic leadership roles. He is a former Board Chairman of the Greater Memphis Chamber and an active member of the Chairman's Circle.
DR. JEFF WALLACE
Economist & Associate Professor
Sparks Bureau of Economic & Business Research | University of Memphis
---
Dr. Jeff Wallace is an Economist and Research Associate Professor of Applied Economic Research at the Sparks Bureau of Business and Economic Research at the University of Memphis. He has been in this position since 1994. Dr. Wallace specializes in economic impact studies, having most recently completed an economic impact study of the University of Tennessee's College of Pharmacy (2006-2007), a study of the economic impact of Baptist Memorial Health Care Corporation (2005), and the economic impact of Memphis International Airport (2005).
Dr. Wallace also has substantial experience in tax revenue forecasting, government fiscal analysis, survey research, labor market analysis, product-market pricing analysis, state labor training program evaluation, and other state and local government program evaluations.
Moderated by DAVID WADDELL
President, CEO, & Chief Investment Strategist
Waddell & Associates
---
David Waddell, CFP is President & CEO of Waddell & Associates, where he has responsibility for over $800 million in client assets. As the firm's Chief Investment Officer, David chairs the W&A investment committee and combines macro economic forecasting, macro market analysis and macro risk assessments to design portfolio strategies utilizing public market securities worldwide.
A civic leader in Memphis, David currently acts as Chairman of Epicenter Memphis and Co-Chair of the Chamber Chairman's Circle. He also serves as a board member for LaunchTN and the New Memphis Institute, and has previously served as chairman for The Leadership Academy, the RISE Foundation, and the Economic Club of Memphis. He also chaired the capital campaign to build the "Live" stage at the Memphis Botanic Garden. David was a member of the 2004 Leadership Memphis class and has been recognized as one of Memphis' "Top 40 under 40" by the Memphis Business Journal, and as a finalist for "Executive of the Year" in 2007. David is a regular contributor to local publications and has appeared as a national expert in the Wall Street Journal, Forbes, USA Today, Fox Business News, CNBC, CBS and ABC news channels.
Click here to get tickets now for State of the Economy 2019.