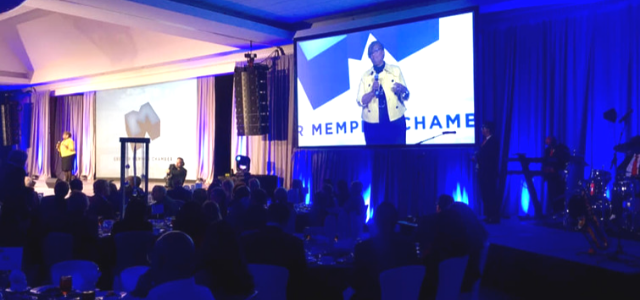 "I am a sojourner, standing on the shoulders of giants. This story is not about me ... it's about tens of thousands of people who are seeking their place today."
On Thursday, December 6, we celebrated our city at the Chamber's biggest event of the year, the Annual Chairman's Luncheon at The Peabody Memphis.
Interim President & CEO Beverly Robertson, the Chamber's first African-American or female leader in our 180 year history, ended the afternoon with these words and a call for economic opportunity for all - a mission we are honored to see through for Memphis.
We highlighted the work we've done this year to support Memphis business, attract and retain local talent, and drive forward policies that support our community.
We welcomed special guests including Governor Elect Bill Lee and Mayor Jim Strickland, and of course, no Memphis event would be complete without some incredible Memphis music... today's sounds included Stax Museum of American Soul Music recording artist and Memphis Music Hall of Fame inductee William Bell.
And, we honored our friend and leader, former President & CEO Phil Trenary. His presence was incredibly missed, today and every day. We remain committed to honoring his legacy for an incredible 2019, our city's Bicentennial year.
Thanks to all of our sponsors and guests for another incredible event!