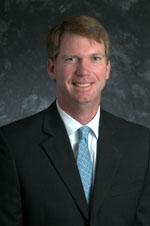 A native of Halls, Tenn., Nick Nunn moved to Memphis right out of college and worked for Morgan Keegan 13 years before joining his family's business, Security Bancorp, in 2005. As chief investment officer today, he manages the investment portfolio and oversees funds management duties for all six of Security Bancorp's financial institutions. An inquiry into how to get involved with the litter problem in Memphis led to Nunn joining the Chairman's Circle as he realized the complexity of the issue. "First impressions are important when people are visiting our city," Nunn said. "The Chamber had made a big commitment toward finding solutions."
Nunn also is involved in finding economic solutions as a member of the Board of Directors at Advance Memphis. Nunn has been involved about 15 years with the nonprofit, which works to empower adults in certain South Memphis zip codes to become economically self-sufficient through things like literacy training and a GED program. This year alone, 209 graduates worked more than 93,000 hours and earned more than $910,000 in gross wages.
A husband and father and a big lover of the outdoors, Nunn believes one of the best things the Memphis area has going for it for anyone considering a move to the city is quality recreational experiences. "We have a lot of great things happening with the Mississippi River and the Harahan Bridge pedestrian walk/bike trail opening (Big River Crossing), the Greenline connecting a good portion of the city, Shelby Forest with 13,000 acres of some of the most beautiful land you will ever see … and Shelby Farms Park. Memphis definitely has a lot of opportunities for people who love the outdoors."
The Chairman's Circle is made up of local leaders whose investment in the Chamber drives transformational change in Memphis. With more than 100 members representing more than 100,000 employees, members of the Chairman's Circle use their collective strengths as community and business leaders to create a clear path to positive change in Memphis and the Mid-South.