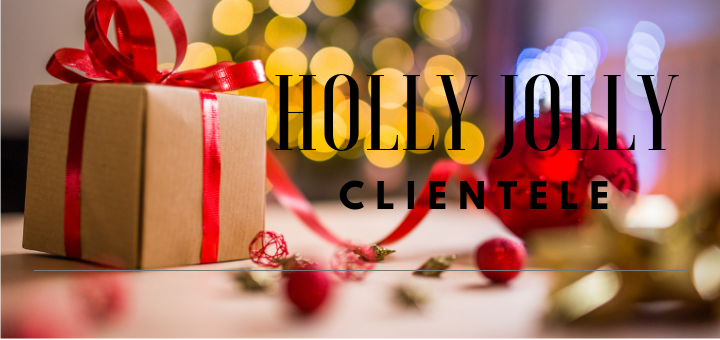 Your customers shouldn't be a one-and-done deal. Return customers and referrals are critical for any business. Showing appreciation to your customers is a surefire way to keep them thinking of you.
The holiday season is a perfect time to thank your clients for their business over the past year. It's also a great opportunity to stand out from the herd and create memorable experiences your customers won't soon forget.
Looking to reinvigorate your client appreciation strategy this holiday season? You've still got time to plan something special. Here are five creative ideas to get you started.
1. Celebrate 12 Days of Customers
Showcase your customers during a 12-day social media countdown. Highlight a story, photo or fun fact about your best customers each day. When possible, tag their profile or business page to get the most reach out of your post. As an added bonus, this gesture makes it easy for customers to send referrals your way when a business connection or friend asks them about the post. Most customers don't refer simply because they aren't asked: as it turns out, 83% of consumers are willing to refer after a positive experience—yet only 29% do (source: Texas Tech University).
2. Go Caroling
Create a short holiday-themed video to send your clients and customers via email or text. Have your team dress in festive attire for the shoot or use a tool like PowToons to create a professional looking animated version. Re-write the words to a simple song to reflect your brand's personality and a spirit of appreciation.
3. Update Your Open House Strategy
Hosting an open house is a great way to gain exposure for your business and to get in client face-time in a relaxed social setting. While December is a great time to host an open house, it's certainly not the only good time! Consider planning an open house or party after the new year when customers are more business-minded and thinking about 2019 budgets. This will also help you avoid competing with other events.
Here are a couple more tips to inspire you:
Stand out and save money by hosting a breakfast or luncheon instead of a full-scale evening party.
Generate goodwill and boost attendance by featuring a non-profit at your open house event.
Remember, logging in and adding your event to the Chamber Community Calendar is an easy and effective way for you to promote your open house, and all your events.
4. Personalize Holiday Gift Deliveries
Deliver special holiday gifts in person to your clients and prospects this year.
Create a customized delivery list using the categorized Chamber membership directory. This tool allows you to view businesses in a certain category, along with contact information, website, and even directions!
5. Post a Hot Deal to Promote Holiday Specials
Consider creating a special Member-to-Member Hot Deal, exclusively for other Chamber members. This is a great way to gain added exposure by promoting holiday specials or discounts to other Chamber members.
Login to add your own Hot Deal to the Member-to-Member Marketplace.
To look at the latest Hot Deals available from Chamber members, login, and click Member-to-Member Deals under Member Benefits.
Companies reap the rewards of going above and beyond to create memorable customer experiences. After having a positive experience with a company, 77 percent of customers would recommend it to a friend (Source: Temkin Group). And the benefits of getting your team involved in your holiday appreciation strategy go beyond external customers. Companies that make a concerted effort to improve their customer experience also see engagement rates go up by an average of 20 percent (Source: McKinsey).
---
It's "the most wonderful time" of the year to appreciate your customers. With these five tips, you've got a game plan for making sure your message of thanks breaks through.
How do you show appreciation to your customers? I'd love to hear from you.Patricia McKinney is the Chamber's Member Engagement Specialist, dedicated to helping Chamber members grow their businesses and take advantage of all the benefits of Chamber membership.