Growing Digital & Print Production Company Expands in Memphis with 300 New Jobs
After many months of discussion and planning, print and digital production company Mimeo announced today that the company has selected Memphis to expand their sales force and production operations, creating 300 new jobs.
In a press conference held in Downtown Memphis this afternoon, Chamber Board Chairman Richard W. Smith, Governor Bill Haslam, TNECD Commissioner Bob Rolfe, representatives from EDGE, Congressman David Kustoff, City of Memphis COO Doug McGowan, and Shelby County Mayor Lee Harris joined Mimeo CEO John Delbridge to support the company in their latest expansion.
Mimeo's location in Memphis (near Memphis International Airport and Lamar Avenue) has allowed the company to thrive, fueled in part by the city's strength as a national distribution center and vicinity to the FedEx World Hub. These assets allow Mimeo to provide customers and partners around the world with high-speed shipping times.
"The best decision we made was to build our central [US] location in Memphis," said Mimeo CEO and founding team member John Delbridge. "We could take orders at 10 p.m., manufacture them and thanks to partners like FedEx, have them delivered by the next morning."
The Memphis location serves as the company's U.S. headquarters, working alongside facilities in Germany and the U.K. The company's selection of Memphis for its expansion further contributes to our city's momentum, powered by passionate citizens and innovative business leaders.
"We are excited to recruit hundreds of new 'Mimiacs' across all levels to our Memphis headquarters," Delbridge said. "Memphis has been part of our story from startup to global enterprise and remains core to supporting our growing customer base."
"This reinforces what we've been saying as a community — Memphis is a great place to do business," said Chamber Board Chairman Richard W. Smith, President & CEO of FedEx Trade Networks. "Our time is now."
The rapidly expanding tech company will be looking to expand its sales force, customer success, engineering and technology teams. Recruiting that high level talent in and to Memphis will be their primary goal moving forward. Check out Mimeo's career page for a list of current job openings.
---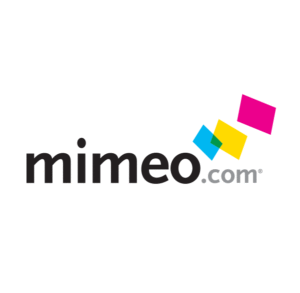 About Mimeo
The minds, makers, and innovators at Mimeo are dedicated to giving back customers what matters most - their time. Mimeo provides the fastest, easiest, most reliable way to manage and distribute their content. Mimeo brings customers' content to life through print and digital formats via its enterprise and consumer app suite and global print production facilities.
Founded in 1998 as a startup, Mimeo has grown into a global organization, distributing content to customers in over 140 countries through 40+ print production facilities. These include wholly-owned facilities in the United States, the United Kingdom, and Germany, as well as an expanding partner network in 6 continents. Its B2B application suite; Mimeo Print, Mimeo PrintX, Mimeo Marketplace, Mimeo Digital is leveraged by organizations across the world. The Mimeo Photos application enables consumers to create premium quality Photobooks, Cards, and Calendars directly within the Apple macOS ecosystem. To learn more, visit Mimeo.com.