Here at the Greater Memphis Chamber we love to celebrate business growth and development! There's nothing like standing beside you as you open the doors to your new business or reveal your new expansion. That's why we offer our members our expertise and assistance with hosting grand opening and expansion ceremonies. Thank you to our Ribbon Cuttings sponsor, Paragon Bank for helping us support local businesses like you.
This week we're celebrating Krystal on the complete renovation of their location on Elvis Presley Boulevard. This location has been open in Memphis since 1968, and is now one of just a few stores nationwide that will be a prototype design for this iconic fast food chain.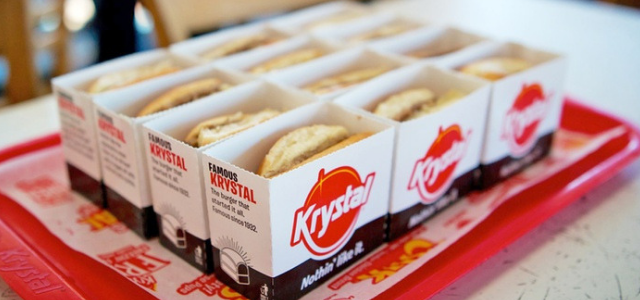 4395 Elvis Presley Blvd.
Why Memphis? Why this location?
Memphis is a core market for Krystal, and we're looking to expand our presence in the market. We made a conscious decision to remain and rebuild on our original site to continue Krystal's 50-year tradition of serving Memphis from this iconic location which was originally built in 1968.
What does your business do or provide?
Fast-food concept that serves guests small square Krystal burgers, chiks, chili cheese pups, fries and a variety of delicious foods that create a shareable experience - for one or for all.
What makes your business stand out?
In 1932, on a downtown street corner in Chattanooga, Tennessee, one of the South's most famous food icons was born -- the small, square, steamy Krystal. A lot of things have changed since we opened over 86 years ago (making us America's second-oldest fast-food restaurant), but deep down that's still what we're doing today. A brand like ours does not continue to grow and thrive for 86 years without iconic products, incredibly loyal guests and proud employees.
Why did you join the Chamber?
Our entire organization is passionate about participating in the communities we serve and we are community-oriented, represented by our stand alone "Community Table" and "Local Community Graphics" in our Memphis location.
If your business is expanding, relocating or opening a new location, what are the reasons for this change? How will this change affect your organization's mission or vision for the future?
The redesign is part of a strategic initiative to improve the dining experience for guests and adapt to changes in consumer behavior. Krystal is experiencing more drive-through business, especially for late-night and breakfast. The enhanced drive-through design is built for speed and serviceability with a single window, expanded work zone and double drive-lane.
The new 1,788 square-foot restaurant replaces the previous 2,200 square-foot structure and is positioned for better visibility from the street. The kitchen and facilities layout maximizes efficiency and employee awareness. Design elements include a vibrant color package highlighting the Krystal name in red, a heritage color for the brand, as well as local community graphics. Architecturally, the building is both contemporary and nostalgic, with a full-glass front, a wood-framed open ceiling and a community table in the dining room. The building is square like Krystal's famous burgers, which were reportedly a favorite of Elvis Presley's.