Here at the Greater Memphis Chamber we love to celebrate business growth and development! There's nothing like standing beside you as you open the doors to your new business or reveal your new expansion. That's why we offer our members our expertise and assistance with hosting grand opening and expansion ceremonies. Thank you to our Ribbon Cuttings sponsor, Paragon Bank for helping us support local businesses like you.
Today, we are celebrating The Pettigrew Firm a female-owned and operated general civil law firm practice serving the greater Memphis area.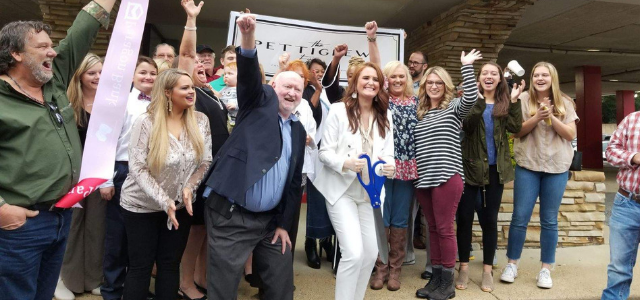 What does your business do or provide?
The Pettigrew Firm is a female owned and operated Memphis law firm committed to excellence. Our CEO, Morgan Pettigrew, dreamed of a place where you can feel like you matter. At The Pettigrew Firm, no issue is too small. Our team gives each client the same personal experience. We work very hard to understand each client's unique situation so that we can be proactive about protecting their interests. In cultivating excellence, we establish frequent communication and ready accessibility. Because The Pettigrew Firm embraces the highest standards of professionalism and integrity, we can be trusted to do the right thing for every client. Proven. Passionate. Personal.
What makes your business stand out?
I think my law firm stands out because we are a female run firm in a profession that is predominantly male. We believe in being passionate about each and every client no matter the size of their issue. The Pettigrew Firm has a hands-on, personal, approach that allows each client to have the best experience possible. Our firm's doctrine and mission is timeless but our approach is always evolving.
What was your motivation for opening your own business?
My motivation to open my own law firm comes from my extremely supportive friends and family. I recently lost my best friend Brooxie Davis to breast cancer and I promised Brooxie that I would live my truth and continue to walk in the light, for myself but also for those who can no longer choose passion, joy, and the pursuit of their dreams.
What are some key things that allowed your business to grow?
Being open to suggestions and help from others is important. Concrete plans are garbage—when you have them, you'll miss opportunities simply because they are not part of your plans. I believe that people become successful when they remain open to new things. Owning your own business is so much more than being smart or business savvy, those things get you a desk working for someone else and good performance evaluations. Personality, hard work, determination, and integrity gets you the big things in life. The key to professional growth is to always evaluate yourself against the person you were the day before, not anyone else.
What's the best thing about owning your own business?
The best thing about owning your own business is controlling your professional and personal life at the same time. While you never really have an 8 to 5 work day, you can always make time for the important things in your personal life!