Here at the Greater Memphis Chamber we love to celebrate business growth and development! There's nothing like standing beside you as you open the doors to your new business or reveal your new expansion. That's why we offer our members our expertise and assistance with hosting grand opening and expansion ceremonies. Thank you to our Ribbon Cuttings sponsor, Paragon Bank for helping us support local businesses like you.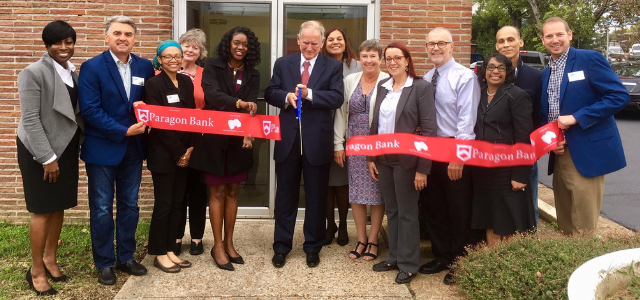 Today, we are happy to be celebrating The Transition House at their new location on Madison Avenue, their first Memphis location and second in Tennessee!
October 15, 2018
Why Memphis, and why this location?
The Transition House Inc. was a successful bidder on a contract offered by the Federal Bureau of Prisons to provide Out Patient Behavioral Health Care for the formerly incarcerated individuals in the Memphis area. The Request for Proposals dictated the geographic area for the delivery of services. This location fit perfectly within the geographic parameters of the RFP. We decided to aggressively pursue the RFP after carefully evaluating the business climate and business community in Memphis, and concluded it would be a perfect location for our agency. 2018 is the year of our 25th Anniversary and an appropriate time to launch our expansion into Memphis.
What does your business do or provide?
We are a 501 c 3 non-profit agency providing Residential, Partial Hospital Programs, and out Patient Services in the Behavioral Health Care arena. At the new Memphis location we will be providing a full array of outpatient services, to include a Psychiatrist, ARNP, and Licensed Mental Health and Substance Abuse Counselors. We accept all major insurances and are in network with all insurance plans in the area.
What makes your business stand out?
We are a Joint Commission Accredited Agency and fully licensed by the State of Tennessee to provide Behavioral Health Care services. We are a non-profit corporation, who remains client centered in all of our treatment services and approaches. In our hometown of St. Cloud, Florida we have been awarded numerous commendations by the Greater St, Cloud/Osceola Chamber of Commerce for our community service and dedication to the local community.
Why did you join the Chamber?
As luck would have it, our original office was right across the street from our local Chamber of Commerce. The level of activity of our local Business Community at that Chamber was quite obvious and I knew that level of networking and outreach would be highly advantageous to our newly formed business. I was approached to join, joined and became active with them and the results were nothing but positive.
What advice would you offer to those wanting to start their own business?
Include in your business plan to become a Chamber member. Do not just join, but become an active member and maximize all of the opportunities of Chamber membership.
What are some key things that have allowed your business to grow?
The community's acceptance of our business and the ability to showcase our service delivery through our Chamber involvement. We played a major role in all Chamber activities in our community and had the advantage of meeting and working side by side with all of our community leaders.
Who is your target market?
The under insured folks in all the communities ewe service, especially those with a Behavioral Health Care need.