Here at the Greater Memphis Chamber we love to celebrate business growth and development! There's nothing like standing beside you as you open the doors to your new business or reveal your new expansion. That's why we offer our members our expertise and assistance with hosting grand opening and expansion ceremonies. Thank you to our Ribbon Cuttings sponsor, Paragon Bank for helping us support local businesses like you.
Today, we are happy to be celebrating Thompson CAT Rental Store at their new location near Memphis International Airport, offering one of the largest rental fleets in the country including low-hour, meticulously maintained articulated trucks, skid steer loaders, hydraulic excavators and virtually any other type of compact or heavy equipment.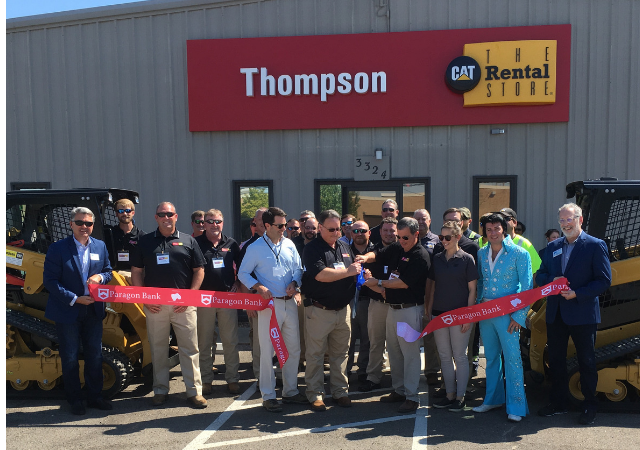 SEPTEMBER 20, 2018 | 3324 Fontaine Rd. Memphis, TN 38116
---
Why Memphis, and why this location?
The Memphis area has been served by a Caterpillar dealership since the mid-30's. This expansion to Fontaine Road is a direct commitment to serve our customers better which will enable them to meet their schedules, keep their promises, and continue to work safely and effectively.
What does your business provide?
The Cat Rental Store at Thompson Machinery provides quick access to a broad selection of equipment, related products, and services to a wide range of industries. What they receive is a flexible and cost-effective rental solution to increase productivity while reducing owning and operating expenses.
While our traditional customers have always been the construction and maintenance communities such as General Contractors, Electrical Contractors, and Mechanical Contractors we don't stop there. Recently we have even been able to help some new customers ranging from a chimney sweep to a zoo!
What makes your company stand out?
We start by offering top quality equipment and after-sale support from reputable manufacturers such as Caterpillar, Genie, JLG, Skyjack, Polaris, and others chosen to meet the needs of our customers. Then we make the transaction effortless and enjoyable. This claim is verified when our customers consistently rank us as the number 1 Cat Rental Store in customer satisfaction based upon surveys conducted by The Daniel Group, an independent business service provider.
Why did you join the Greater Memphis Chamber?
Our renewed commitment with the Chamber offers a unique way to keep in touch with the pulse of Greater Memphis. We feel our participation can contribute to strengthen and improve Memphis and we will all benefit now and in the future.
If your business is expanding, relocation, or opening a new location, what are the reasons for this change? How will this change affect your organization's mission or vision for the future? While our flagship Thompson Machinery location remains at 1291 Corporate Ave, we decided to expand our Rental operations to 3324 Fontaine Road. This move was a great opportunity to expand our product offerings, increase inventory of certain machines, and to make it more convenient for customers within a 60 mile radius to do business with us.
This is all guided by our company's Mission Statement to provide "Superior Services, Innovative Solutions, Stronger Communities".