Here at the Greater Memphis Chamber we love to celebrate business growth and development! There's nothing like standing beside you as you open the doors to your new business or reveal your new expansion. That's why we offer our members our expertise and assistance with hosting grand opening and expansion ceremonies. Thank you to our Ribbon Cuttings sponsor, Paragon Bank for helping us support local businesses like you.
Today, we are happy to be celebrating global architecture and engineering firm HDR, Inc. on their new location in Memphis!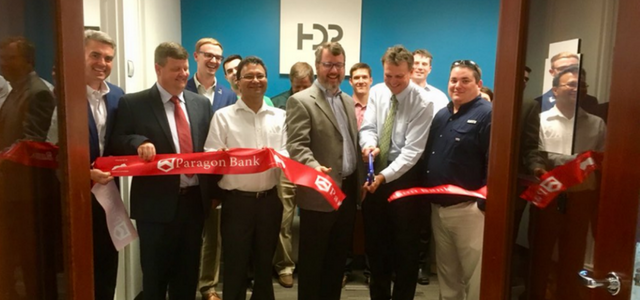 Why Memphis, and why this location?
HDR has done work locally for the City of Memphis, TDOT, MATA, and other area clients for several years, we figured it just made logical sense to locate a branch office in Memphis, hire local staff, to help support our clients in the greater Memphis area on engineering and architectural projects.
What does your company provide?
We are a full service engineering, architectural firm, and we also have a construction arm. Many of the services we provide are within transportation (roads, bridges, aviation, transit, ports), water/wastewater, or resources (electric, gas, utility, etc).
What makes your business stand out?
We are over 10,000 employees throughout the world, this gives us an expertise base to be able to tackle almost any type of planning, engineering, or architectural assignment. We think this is best done by pairing a local office with the national experts together to make projects successful.
Who is your target market?
Mainly governmental clients in the area such as the City of Memphis, Shelby County, MATA, MLGW, and the municipalities in the greater Memphis area.
How will this new location affect your organization's mission or vision for the future?
Having a Memphis office will allow us to continue to serve our local clients, only better by having local staff and project managers within Memphis that can quickly respond to our client's needs. We expect to support work in all of West Tennessee from Memphis as well as work from eastern Arkansas, among others.