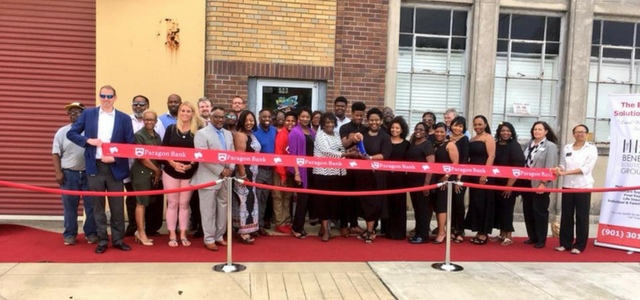 Here at the Greater Memphis Chamber we love to celebrate business growth and development! There's nothing like standing beside you as you open the doors to your new business or reveal your new expansion. That's why we offer our members our expertise and assistance with hosting grand opening and expansion ceremonies. Thank you to our Ribbon Cuttings sponsor, Paragon Bank for helping us support local businesses like you. Today, we are happy to be celebrating The Benefits Solutions Group, one of the newest businesses in Downtown Memphis!
What does your business do?
The Benefits Solutions Group (TBSG) is an Insurance Brokerage Firm that provides low cost and in most cases, no cost opportunities for Seniors Ages 64+ and Individuals who have Medicare and/or Medicaid (TennCare).
Additionally, we offer Life Insurance - Whole/Term as well as Final Expense for the entire family, with premiums starting at just $20.
Lastly, given the challenges of the HealthCare Marketplace TBSG is offering Small Business Owner Guaranteed Issue Polices for businesses with 10 or more employees as well as Individual Plans.
What makes your business stand out?
At the Benefits Solutions Group, we'd like to consider ourselves more than just an Insurance Firm. We are an extension of the communities we serve. Our clients are our families. Great Service....Local People!
Why did you choose to join the Chamber?
I've been involved with the Chamber through other company memberships and always the one chosen to attend the events. That experience gave me a 360' view of the Chamber and it was an incredible journey, so I wanted to experience it as the decision maker. From Sourcing great candidates to a Social at Dave and Busters, the Chamber finds a way to actively engage its members. Excited and ready to see what awaits me in the world of entrepreneurship!!!