As Memphis undergoes several economic development studies and the conversation grows around how to make our city a desirable place to do business, there are many industry terms and acronyms thrown around that make these concepts less accessible to the public. We believe everyone should have a seat at the table and be able to follow along with these issues - and ultimately be able to contribute to creating innovative solutions.To start, we're talking about incentives - the tools we have to attract companies to Memphis. Every city and state has a different incentive package to offer potential companies. Since we are in a national competition for jobs and investment, incentives are essential for us to remain competitive. We're also listening to new ideas about incentivizing companies to invest in Memphis.
The incentives we'll be explaining this week, PILOT and TIF, are two of the most commonly used in Memphis and Shelby County. There are several others that states, counties, and agencies can offer to companies interested in relocating or expanding. State governments are also able to jump in to offer financial incentives in order to avoid sending a company across state lines (and losing its potential tax revenue).Even if a TIF District isn't something you're familiar with, you've probably seen one in action - the Highland Strip (near the University of Memphis) and Graceland are both current TIF Districts in Memphis.
The process begins when the State of Tennessee authorizes local governments to establish TIF Districts within their communities. These are often areas that are blighted, abandoned, or otherwise in need of revitalization.
When a TIF District is established, companies who choose to locate in that area receive the benefit of having a portion of their property taxes allocated to improvements they would otherwise have had to cover themselves - including, but not at all limited to, things like sewer infrastructure, parking lot expansions, or street repaving.
The idea is that by incentivizing companies to locate in these areas, the new development will ultimately lead to a significant increase in property value - and higher property value means higher property taxes.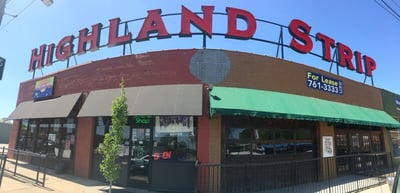 In a TIF District, an initial property tax baseline is set when the District is established. As companies begin to locate within the District and property value increases, any additional tax revenue collected in excess of the baseline - a new tax increment - is kept separate. TIF stands for Tax-Increment Financing.
During the lifetime of a TIF District (anywhere between seven and 30 years), that Tax Increment money is then divided based on percentages authorized by the State: one amount is distributed back to the government as normal taxes, and another amount is used for the improvements within the District that were established upon its founding.
In Tennessee, by default, that second revenue stream can only be used for "public use" construction within the TIF District - the streets, sewers, and parking lots, among other things. But if a company wants to use those funds toward privately-owned assets, like repaying construction debt or creating a new asset on the property - for example, the new arena being proposed near Graceland, one of Memphis' TIF Districts - it must receive approval from local and state governments.
Locally, there are several agencies that are authorized by the State to create TIF Districts, with the approval of both Shelby County and the City of Memphis (if located within city limits). The State maintains its own standards for creating a TIF District, and local governments can add to those standards if desired.
To see an example of a TIF District in action in Memphis, click here to see the details of the $21 million, 20-year TIF for the Highland Strip, granted by EDGE in 2016.
EDGE (Economic Development Growth Engine for Memphis & Shelby County)
Community Redevelopment Agency (CRA)
Memphis Housing Authority
Center City Revenue Finance Corp. (Downtown Memphis Commission)
Local Industrial Development Boards (IDBs): Arlington, Bartlett, Collierville, Germantown, Lakeland, Millington
Uptown Memphis (CRA)
Highland Row (CRA)
Graceland (EDGE)
Shops at Millington Farms (Millington IDB)
The Lake District (Lakeland IDB)
University District - Highland Strip (EDGE)
Binghampton (CRA)
Stay tuned this week for another post explaining PILOTs, another incentive used to attract business to Memphis and Shelby County.
Sources: Memphis Business Journal, Good Jobs First, EDGE
Photo: Choose 901
Every state and local government utilizes TIF slightly differently. This definition applies specifically to Tennessee and Memphis/Shelby County.This post is part of a Chamber series explaining the pieces, players, and processes behind growth in this city. It's an exciting time to be in Memphis - click here to read more and join the conversation.