Here at the Greater Memphis Chamber we love to celebrate business growth and development! There's nothing like standing beside you as you open the doors to your new business or reveal your new expansion. That's why we offer our members our expertise and assistance with hosting grand opening and expansion ceremonies. Thank you to our Ribbon Cuttings sponsor, Paragon Bank for helping us support local businesses like you.
Today, we are happy to be celebrating franchise owners Michael and Sarah Carruth on the opening of The Dapper Doughnut, the newest addition to the Wolfchase Galleria!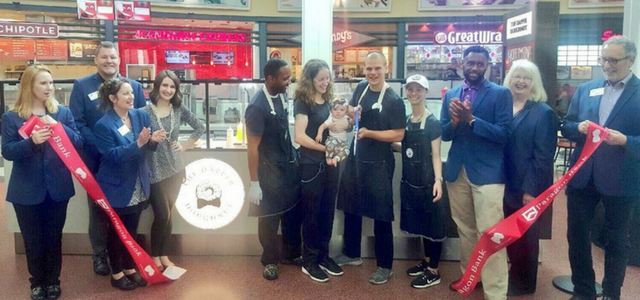 Tell us about your business.
The Dapper Doughnut specializes in hot mini doughnuts, doughnut milkshakes, coffee, and doughnut truffles.
What makes your business stand out?
We are different from traditional doughnuts because ours are made hot and fresh right before your eyes, not sitting on a shelf waiting to be eaten. With so many toppings to choose from, you are sure to find something you like. Our milkshakes are not regular ol' milkshakes either - they have doughnuts blended inside!
What was your motivation for starting your own business?
We decided to start our own business to have something that we could work as a family. We want to be able to be present in the community and give back where we can, while spending time and growing the business with the people we love.
Michael and Sarah Carruth and baby Emery Belle, new owners of The Dapper Doughnut in the Wolfchase Galleria.