Here at the Greater Memphis Chamber we love to celebrate business growth and development! There's nothing like standing beside you as you open the doors to your new business or reveal your new expansion. That's why we offer our members our expertise and assistance with hosting grand opening and expansion ceremonies.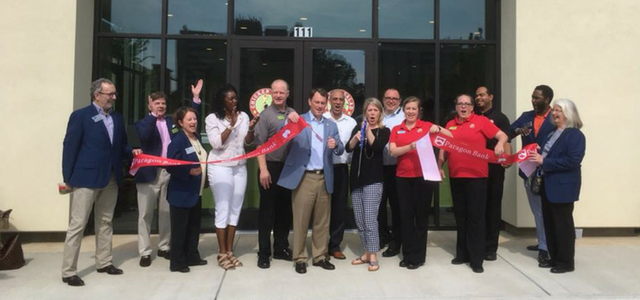 Thank you to our Ribbon Cuttings sponsor, Paragon Bank for helping us support local businesses like you. Today, we are happy to be celebrating Chicken Salad Chick on their new location in Poplar Commons!
Why Memphis?
Opening two new Tennessee restaurants within a week is a testament to our successful expansion strategy and growing customer base in the state," said Scott Deviney, CEO of Chicken Salad Chick. "Our brand continuously surpasses performance benchmarks in Tennessee, which has motivated us to continue growing Chicken Salad Chick's presence in the market. We look forward to serving residents across the Memphis community and are confident our warm, Southern dining experience will resonate with the city's rich and historical culture."
An additional Tennessee location in Knoxville opened last week and a new restaurant in Germantown is slated to open later this year.
What does your business do or provide?
The Chicken Salad Chick concept, born in Auburn, was established in 2008 in the kitchen of founder, Stacy Brown. When Stacy discovered that the local county health department would not allow her to continue making and selling her delicious recipes out of her home kitchen, she overcame that obstacle by launching her first restaurant with the business expertise of her future husband and fellow founder, Kevin Brown. Together, they opened a small takeout restaurant, which quickly grew; the company now has 89 restaurants across the Southeast.
Chicken Salad Chick serves full-flavored, Southern-style chicken salad made from scratch and served from the heart. With more than a dozen original chicken salad flavors as well as fresh side salads, gourmet soups, signature sandwiches and delicious desserts, Chicken Salad Chick's robust menu is a perfect fit for any guest.
What makes your business stand out?
Chicken Salad Chick is the nation's only southern inspired, fast casual chicken salad restaurant concept. The company has more than 85 restaurants in 9 states and is continuing its rapid expansion with both franchise and company locations. Chicken Salad Chick was recently named as one of FastCasual.com's top Movers and Shakers and one of Nation's Restaurant News 2017 Next 20 brands. We also ranked #37 on the 2016 Inc. list of the 500 fastest-growing companies in the U.S.