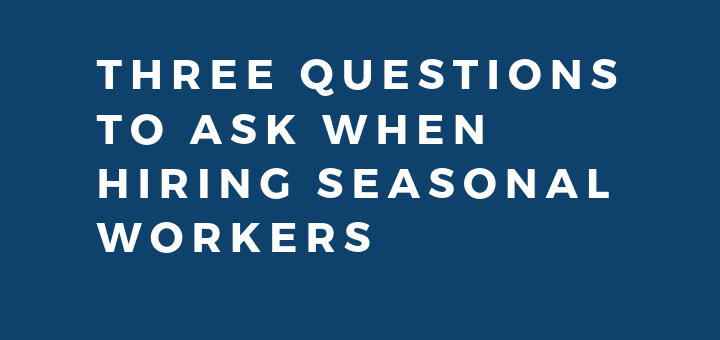 For employers, the term "seasonal employee" can be relative, depending on the goods and services a business offers and/or its geographic location. Regardless, hiring seasonal workers can present some significant legal landmines for unsuspecting employers. To avoid these issues, employers should carefully review their employment policies as part of their spring cleaning to-do lists. While reviewing these policies, here are a few questions to consider:
Are Your Employees Legally Authorized to Work in the United States?
e Immigration Reform and Control Act of 1986 (IRCA), employers are required to verify that all employees, including seasonal workers, are authorized to work in the United States. Proof of this verification is made through Form I-9. As part of the verification process, employees must present documentation establishing his or her identity and right to work in the U.S. Acceptable forms of documentation include passports, driver's licenses, social security cards, permanent resident alien cards and birth certificates. With the exception of birth certificates, employers should request the original issue of these identifying documents. The Trump administration has made it clear that immigration enforcement is a priority, so taking this simple step will help minimize the risk of an enforcement action against your company or organization.
Have Your Seasonal Employees Been Informed in Writing of the Limited Duration of Their Employment?
While most seasonal employees understand that they have been hired for a limited time, it is advisable to specify the limited duration of their employment in writing before they begin working. Employers should also require seasonal employees to acknowledge, in writing, that they are "at-will" employees and that their employment may be terminated with or without cause at any time, even before the end of the season.
Are Seasonal Employees Included in Your Benefits Policies?
Employers should periodically review their employee benefits plans and policies to determine whether seasonal employees qualify to participate in them. Even if certain benefits plans were not intended for seasonal workers, if a seasonal worker is able to meet the eligibility requirements and seasonal workers are not explicitly excluded from them, an employer could become obligated to allow the seasonal worker access to those benefits.
The ability to hire seasonal employees is a great benefit to employers looking to keep pace with their seasonal demands while remaining efficient. In general, seasonal employees who will have access to the same company resources as permanent employees should be subjected to the same screening standards. Also, and importantly, any background screening of seasonal employees should be job-related, consistent with business necessity and compliant with federal and state laws.
By following best practices, including those outlined above, employers can significantly minimize their legal risk. Employers who are unsure of their legal obligations with respect to seasonal employees should consult an experienced labor and employment attorney.
---
Gabe McGaha is an associate attorney at Fisher Phillips. Have questions about a legal or labor and employment matter and how it may affect your business? Contact Gabe at gmcgaha@fisherphillips.com.