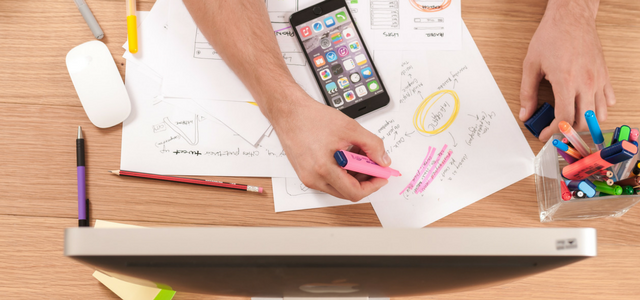 Small businesses - if you don't already know, you need to have a social media presence. Potential customers will search for you digitally, and if they can't find you (or your presence is weak and unbecoming), you can lose out on that business.
To make your channel stand out, you need to curate thoughtfully designed and cohesive content. This is a struggle for many small businesses, as you likely don't have a designer on staff.
Thankfully, you no longer need to have an expert on hand to handle every single graphic element you need (though, if you're going to launch an ad campaign or something more complicated than a simple social graphic, please trust an expert!). There are online tools to help you create graphics, gifs and video content that stacks up to the big brands. The best part? They're FREE!
Here are three design tools you need to check out today:
1. Canva
Canva is the go-to design tool in our office. It offers hundreds of templates, and allows us to collaboratively create well-designed graphics. These templates help even novice designers create visually appealing elements that you can use on your blog, website or social media accounts.
The free version has limited templates, but for less than $10 per month (billed annually), you can access additional features including logo and brand customization, automatic design resizing, stock photos and illustrations. AND, they're beta testing gif creation. Imagine how much you could step up your office email chain or Slack thread with homemade gifs!? For more than a year, our company has used Canva, and it's safe to say we're hooked!
2. Adobe Spark
Let's be honest - Photoshop and Illustrator are intimidating to those of us without a design background. Adobe realized this, and they've created a web-based solution to help (thank you, Adobe!). Adobe Spark allows you to create custom graphics, web pages and videos using basic templates and easy-to-use design features.
While Spark and Canva are similar in nature, Spark has a few features that make it a stand-alone must-have. In its design functionality, there is a style wheel that allows the user to view how text looks in different formats without having to manually change and test different styles. This saves you time and energy! The video and website integration also make it a great option for small businesses.
If you already use Adobe products, I have good news! Paid Adobe accounts have access to additional features within Spark, expanding what the tool can do. Additionally, Spark has recently added new features, and I expect more to come in the near future.
3. Piktochart
If you're not already creating infographics, you need to be! Infographics are a great way to tell a story in a visual manner and can help you break down elements of your business to your customers. But, they take a lot of time and, again, can be challenging for the non-artistic folks.
In comes Piktochart to save the day! The free version of this tool allows you to create infographics, flyers and presentations from easy to read templates. The downside - free features are limited. But, the paid version of the tool is affordable, at $12 per month billed annually.
Have questions about any of the design tools above? We're happy to help. Email us at insight@obsidianpr.com.
---
This week is National Small Business Week! Obsidian is committed to helping the Greater Memphis Chamber's small business population by sharing tips and tricks to help promote your business. Follow this week's series for valuable information and advice.