MEMPHIS, Tenn. (Monday, 7/11/22) – The Greater Memphis Chamber today announced its new Gold Standard Certification to distinguish staffing agencies with fair and equitable business practices.
Only five local companies will be awarded Gold Standard Certification each year. After a careful vetting process conducted by an independent review board, the following companies received certification:
CTD Staffing, LLC
Prestigious Placements, Inc.
Prologistix
Staffline, LLC
Summerfield Associates, Inc.
The Gold Standard Certification is a direct result of From Protest to Progress, the Chamber-led initiative to brought together business leaders, activists, and clergy to discuss business-related equity issues in Memphis in the wake of George Floyd's murder in 2020. The certification addresses concerns about equitable hiring practices and fair treatment of people finding work through staffing agencies.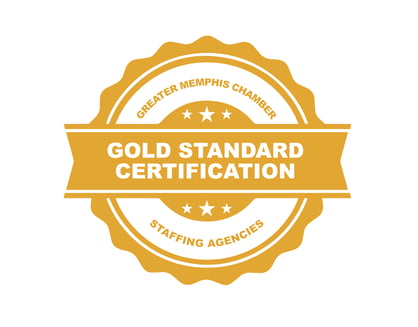 "From Protest to Progress was historic because it was the first time businesses and activists really listened to each other," said Greater Memphis Chamber President & CEO Beverly Robertson. "The Gold Standard Certification was created to address the real need of people in our community to know which staffing agencies will treat them fairly, equitably, and with the dignity they deserve."
To be eligible for certification, staffing agencies must operate in Memphis or Shelby County for three or more years, demonstrate a commitment to ethical and professional standards, submit letters of support from an employee client and business client, and support the success of all of their employee clients.
An independent board made up of the following volunteers reviewed the certification candidates:
Al Lewis, Coalition of Concerned Citizens
Ann Terry, United Way Mid-South
Curtis Hargrett, Nike
Sarah Rainforth, Nike
Kendra Key, Greater Memphis Chamber
Blake Payne, Greater Memphis Chamber
Media Contact: Chamber Communications Director Ryan Poe.
About the Greater Memphis Chamber: One of Memphis' oldest institutions, dating back to 1838, the Greater Memphis Chamber is a privately funded nonprofit that serves as the region's lead economic development organization and the "Voice of Memphis Business" on local, state, and national issues. The Chamber's mission is to relentlessly pursue prosperity for all — through economic and workforce development, pro-growth advocacy, and by providing support and resources to its investors, which include many of the region's largest employers. For more information about the Chamber, visit memphischamber.com and memphismoves.com. Also, follow the Chamber on Twitter, Facebook, LinkedIn and Instagram, and sign up for its weekly newsletter, Memphis Fourword.